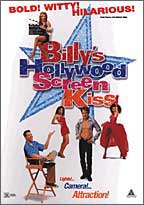 Billy's Hollywood Screen Kiss
Trimark Home Video
1998
Director/Screenplay:
Tommy O'Haver
Starring:
Sean Hayes,
Brad Rowe,
Richard Ganoung,
Paul Bartel,
Meredith Scott Lynn, Matthew Ashford, Armando Valdes-Kennedy, Holly Woodlawn, Carmine Giovinazzo
Rated R, 92 minutes
Fun In the Sun
by Michael D. Klemm
Posted online, March, 2009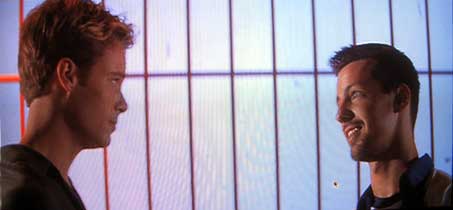 Ten years ago, I wrote a column about romantic gay films for a Valentine's Day edition of Outcome and cited the recent indie hit, Billy's Hollywood Screen Kiss, as being perhaps the best gay "date movie" ever filmed. Seeing it again, ten years later, hasn't dimmed my enthusiasm. Before shooting to stardom on TV's Will & Grace, Sean Hayes starred as Billy Collier, a gay photographer with a talent for falling in love with the wrong guys. Billy is out of work and his friend Perry (Richard Ganoung), a slightly older and more established photographer, offers to fund his next project. Billy wants to shoot a series inspired by great cinema screen kisses (such as From Here To Eternity's famous beach scene).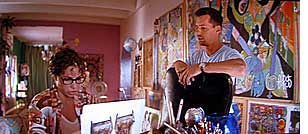 As the film opens, Billy is trying to break things off with Fernando, a handsome Latino who is cheating on his partner (Fernando claims they have an open relationship). While his best friend Georgiana (Meredith Scott Lynn) lectures him, over coffee, to stop chasing after men that he can't have, Billy locks eyes with a very cute young waiter named Gabriel (Brad Rowe) and falls head over heels in love. Georgiana asks Billy if he's just lost his mind again. Gabriel agrees to pose for Billy's screen kiss photos and the two men become friends. Gabriel claims to have an out-of-town girlfriend but their relationship is rocky. This sets into motion an "is he or isn't he?" scenario as Billy's gaydar goes off. Gabriel seems confused about his sexuality but will it lead to romance between the two men?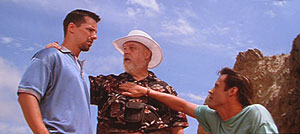 Billy acts like a love-sick schoolgirl and tells a disbelieving Perry (who knows Billy's history) that Gabriel is "the one" but he's not sure if his beloved is gay or straight. Perry needs to see for himself and invites the two men to be his guests at an art show. As luck would have it, the gallery is hosting the work of famed photographer Rex Webster - Billy's most despised rival. This wouldn't be a romantic comedy if obstacles weren't thrown in Billy's path and Rex (Paul Bartel) is a lecherous egomaniac who also thinks Gabriel is luscious and invites the young waiter to audition for his next photoshoot. Does Billy get jealous? Is the Pope Catholic?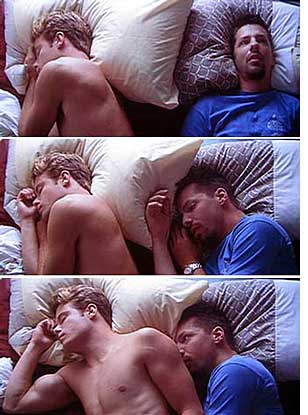 Gabriel continually sends mixed signals and Billy grows more and more frustrated. As their sexual tension grows to a fever pitch, a drunk Gabriel spends the night at Billy's apartment. Because the couch is too short, Gabriel accepts Billy's offer and climbs into his friend's bed. Billy lays next to him, nervously, while trying to decide if he should touch him or wait and see if Gabriel makes the first move. This scene, captured in one long three minute shot, is a masterpiece of comic subtlety. The way that it exploits the cinematic possibilities made possible by the geography of the 2.35:1 widescreen makes it one of the funniest scenes I have ever seen in any movie.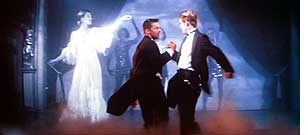 Billy's Hollywood Screen Kiss is unpretentious and sweet, and pays homage to the sun drenched Cinemascope beach movies of the early 60s. The campy elements are kept under tight rein and this film could have easily spun out of control. Fred Astaire, and others, are evoked as Billy often dreams himself into the movies and these clever visual parodies, unlike the fantasy sequences in so many other films, are a delight. A trio of drag performers - one hilariously out of synch with the others during the opening credits - function as a Greek Chorus and provide comic relief. It's light and airy fluff but it's also lots of fun. It was a refreshing antidote, at the time, to all the AIDS films back in the 90s and it still holds up rather well today.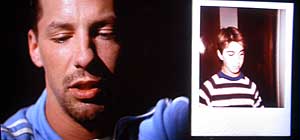 Sean Hayes is a hoot as Billy. His comic timing is excellent; he also knows when less is more and he can be deliciously deadpan. He also displays a surprising sensitivity during a lengthy monologue in which he recalls a painful childhood incident involving his best friend. To be honest, I grew annoyed with Hayes' Jack McFarland character (and with Karen too) on Will and Grace after it had been on television for a few seasons and I was pleased when I still enjoyed his performance as Billy. Brad Rowe, a Brad Pitt lookalike, makes a pleasing Gabriel and the legendary gay director Paul Bartel (Eating Raoul, Lust In the Dust, Scenes From the Class Struggle In Beverly Hills) is perfect as the obnoxious rival photographer Rex. Ex-Andy Warhol superstar Holly Woodlawn makes a cameo, and I especially liked how Parting Glances' Richard Ganoung (Perry) was on hand to pass the torch to a new generation of queer filmmakers.
My personal tolerance for mindless and fabulous camp has it limits (Another Gay Movie and Another Gay Sequel anyone?) and so it is a treat when somebody gets it right. Billy's Hollywood Screen Kiss remains high on my list of gay comedies.
Brad Rowe also appears in:
Shelter
Richard Ganoung also appears in:
Parting Glances