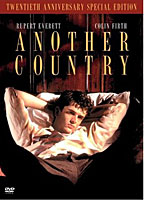 Another Country
BBC Video, 1984
Director: Marek Kanievska
Screenplay: Julian Mitchell, based on his play
Starring: Rupert Everett, Colin Firth, Cary Elwes,
Not rated, 88 minutes
Hey! Teacher! Leave Those Kids Alone!
by Michael D. Klemm
Reprinted from Outcome, October, 2005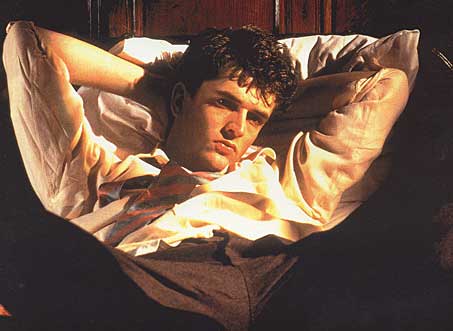 Several classic gay films made their DVD debuts last year. One of the best is a forgotten British gem from 1984 called Another Country. This slice of gay history was groundbreaking in its day and deserves to be remembered. A very young Rupert Everett, reprising the role he played on stage, leads one of the greatest youthful casts ever assembled. Adapted for the screen by the original playwright, Julian Mitchell, Another Country examines the boarding school days of real-life British spy-turned-traitor Guy Burgess.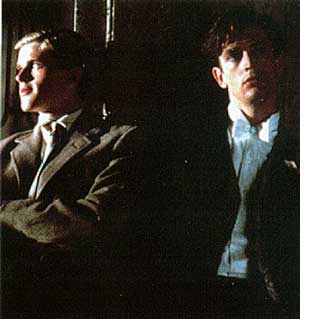 Another Country opens and closes with the protagonist as an old man, living in Russia. When an interviewer asks for the reasons why he became a Soviet spy, the film shifts into flashback mode. It is the 1930s and the setting is a stuffy British male boarding school. Rupert Everett beautifully plays Guy Bennett (the name is changed slightly) as a young man.
Guy stands out from the other students. Perhaps it is his foppish mop of hair, perhaps it is his aesthete posing. His dress is bohemian, suggesting a hint of rebellion. He detests the school, but he looks forward to the next term when he is slated to become one of the "Gods" - the ruling elders in the dormitory houses. This is the only thing that makes the oppressive school bearable for him as being a God is the stepping stone to status. Awareness of class is indoctrinated into these lads at an early age and even Guy, the rebel seeking his cause, is caught up with wanting to rise above his station.
Ironically, his best friend at school is a Marxist named Tommy Judd (Colin Firth). Judd refuses to be appointed a God because he is Communist and finds the British class system repulsive. While Guy envisions an ambassadorship in his future, Tommy wants to incite revolution. Guy and Tommy are committed friends despite different ideologies; they bond over a shared outsider status. There is love, but it is unrequited; they don't play for the same team.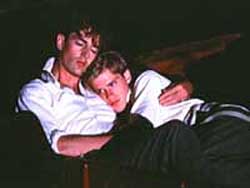 Guy, however, is in love. With another boy at the school, from a different house, named James Harcourt (Cary Elwes). After many exchanged glances, Guy and James meet for dinner in an expensive restaurant. They are as nervous as young schoolgirls and clearly enraptured with each other. This may be one of the most romantic scenes between two men falling in love ever filmed; it certainly was in 1984.
Of course their romance is doomed to end in tragedy. As everyone must surely know, "buggery" is the open secret of British universities. It is usually tolerated as long as it is a transient thing. But Guy knows that he loves men. Meanwhile, two older lads are caught "buggering" by a headmaster and one of them hangs himself in the chapel. As the Gods and headmasters clamp down on "unacceptable behavior," Guy and James are sneaking out at night and lying in each other's arms in a rowboat by the river.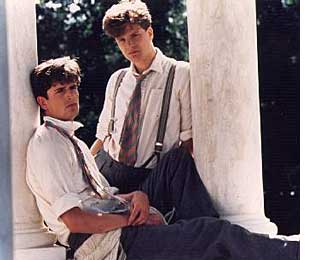 The key scene is a confrontation between Guy and his Marxist best friend. Tommy tells Guy that he canŐt possibly know that he will never love women while Guy insists that he does know, and that a person just gradually discovers this inescapable truth about oneself. He asks his friend, "Did reading Karl Marx make you a communist, or do you read Karl Marx because you are a communist.?"
In an interview on the DVD, the playwright discusses how he wanted to explore the psychology of why someone would turn traitor by examining that person's youth. Now wait a minute, some of you are saying, do you mean that he is insinuating that Guy Burgess was a traitor because he was gay? No, not at all. But his homosexuality is shown as one of many, factual, facets of his development.
This is one of the first films to depict coming out as a political act. Like many a Merchant-Ivory film, Another Country begins with painterly images of lush English countrysides before smashing the idyllic setting to expose hypocrisy and injustice. Another Country is enjoyable on many levels. As a boarding school drama, it is up there with Lindsay Anderson's if... and Jean Vigo's Zero For Conduct (both of which also had coded and hidden homoerotic elements). It is also a forbidden love story, with societal repercussions, like Romeo and Juliet and West Side Story.
The acting is first rate throughout, especially Everett and Firth. Director Marek Kanievska is quoted in The Celluloid Closet as having said that he didn't show the young men being intimate because he didn't want to alienate the audience. Normally, I would consider this to be a cop out, but this film is over 20 years old and the director was right at the time - if the film had been made today, things would be different. He wanted the audience to feel the romance, and not just think about sex.
On this level, the film is a complete success. This is the most romantic film between two men this reviewer has seen. Admittedly, I first saw the film 17 years ago, but the scene where Everett and Elwes - both so adorably young - flirt over dinner has the power to make even the biggest cynic melt.
This DVD also has one of the best special features I have seen in a long time: footage of Rupert Everett onstage in the original production, and sharing the footlights with an equally young Kenneth Brannagh in the role played by Colin Firth in the film. For those who are interested in Guy Burgess' later career, check out John Schlesinger's An Englishman Abroad.
More On Colin Firth:
Apartment Zero
A Single Man
More from playwright Julian Mitchell:
Wilde