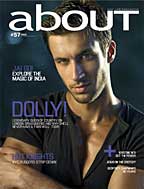 Gay Life Magazine
Serving Toronto, Ontario
and Western New York
Home To My
Reviews: 2008
Publisher: Duane Booth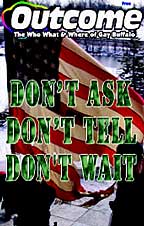 The What, Where, & When of Gay Buffalo
Serving Western New York
Home To My Reviews
Since 1998
Publisher: Tim Moran
2004
Jesus Hopped The "A" Train
by Stephen Aldy Guirgis
Starring Carmelo Lopez, Hugh Davis, Dan Walker,
Victor Morales, Jennifer Linch
Directed by Robert Waterhouse
The New Phoenix Theatre re-mounted this award winning production
in their 10th anniversary season with most of its original cast. This was
also the first year that we had full color playbills, though the posters
would still be black and white. I cannot take credit for the
original photograph here. It was taken by actor Dan Walker.