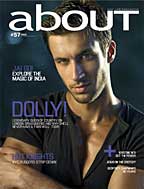 Gay Life Magazine
Serving Toronto, Ontario
and Western New York
Home To My
Reviews: 2008
Publisher: Duane Booth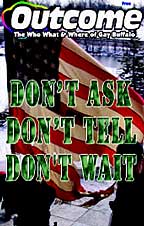 The What, Where, & When of Gay Buffalo
Serving Western New York
Home To My Reviews
Since 1998
Publisher: Tim Moran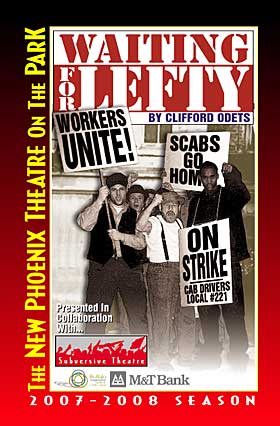 2008
Waiting For Lefty
by Clifford Odets
Starring Victor Morales, Tom Scahill, Richard Lambert,
Kate LoConti, Hasheen DeBerry, James Wild, Sarah Brown,
Jeffrey Coyle, Leon S. Copeland, Jr., Marshall Maxwell,
Jennifer Linch, Rich Kraemer, Keith Elkins,
M.Joseph Fratello, Bill Schmidt
Kevin Cain, Guy DeFedericis, Kevin Dennis, Tom Izard, Roger Killian, Stacy Kowal
Joseph Laspro, Julie Oesch, Jessica Stuber, Anthony Tyrpak
Directed by Kurt Schneidermann
This co-production between the New Phoenix and Subversive Theatre
transformed the entire theater, including the audience area, into a
union hall. I pulled this image for the poster out of my butt at the
last minute. The stage hadn't been built yet and the actors were
holding up blank signs when I took the pcitures. It's amazing
what you can do with Adobe Photoshop.