There's No Place Like Home
by Michael D. Klemm
Reprinted from Outcome, June, 2002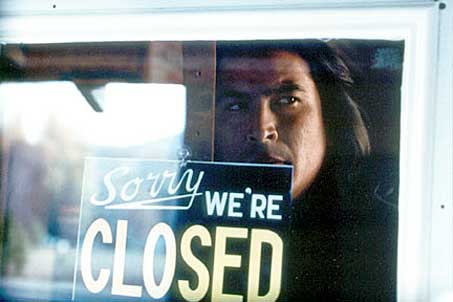 It is often said that you can never go home again but that's just what Henry Hart (Arye Gross) attempts in Big Eden, a charming little film that marks the writing and directing debut of Thomas Bezucha.
Henry is a successful, but lonely, gay New York artist who, on the eve of a gallery opening, returns to his home town to care for his ailing grandfather. Henry grew up in Big Eden, a small rural town in Montana. When he arrives, he discovers that he isn't the only one to have come home. Dean Stewart (Tim Dekay), his high school best friend, and the object of his unrequited love, has recently divorced and returned to Big Eden to settle down with his two sons.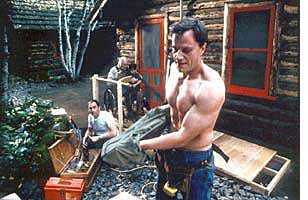 Their eventual meeting fills Henry with dread, but Dean is thrilled to see his old friend again. There is also a tension between them that you can cut with a knife. Henry's feelings are obvious but what about Dean's? Does Dean know that Henry is gay? And, if so, why does he hug him, playfully slap his behind, and remove his shirt in front of him while fixing his porch?
Everyone in Big Eden is happy to see Henry back home again. Henry's old schoolteacher Grace Cornwell (Louise Fletcher) arranges for the Widow Thayer (Nan Martin) to cook meals for Henry and his grandfather, and asks general store owner Pike Dexter (Eric Schweig) to deliver the food to their home. The widow's suppers are inedible and Pike, who has taken a liking to Henry, begins to secretly cook healthy gourmet dinners for the two men.
While Henry is wondering how he is going to deal with his sexuality in Big Eden, the nosy Widow Thayer invites him over for tea so that she can introduce him to the available young women in town. Henry's lack of interest tips off the old woman and she has another tea - this time all of the guests are men, including a big burly bear named Doug who made the bundt cake. Henry's confusion grows when he meets a local lesbian couple at the hardware store and they share a kiss in public. Is it possible that these townsfolk aren't all members of the John Birch Society? But wait, there's more. The seven scruffy old cowboy-types who hang out everyday at the general store want to help Pike get fixed up with Henry.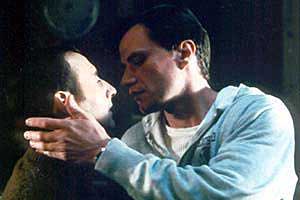 In Big Eden, the viewer is transported into an alternate universe where the cast of The Andy Griffith Show is gay friendly; where Aunt Bee might play Cupid to Barney Fife and Floyd the barber. This air of optimism makes for a wonderful "feel-good movie" but this is where reviewing this film becomes problematic. Big Eden, while certainly idyllic, isn't far from Wyoming where Matthew Shepard was killed because he was gay. Are we to believe that a bunch of old cowboys would ever play matchmaker to two men?
Then again, maybe it's time for us, as gays and lesbians, to make a leap of faith. Big Eden dispels us cityfolks' ideas about what rural living is like. This is not a backwards podunk town. There is an airport and a modern hospital and the general store, besides selling fishing bait, also has a cappuccino bar.
Anyone who saw Buffalo United Artists' superb production of The Laramie Project here in Buffalo locally (or the HBO film) knows that living in a small town doesn't automatically make you a redneck. One of the play's biggest surprises was that most of Laramie's inhabitants were not homophobic. One line that has always stuck with me was a limo driver's firm assertion that gay men in Laramie bale hay and chop down trees and that "you do not fuck with a Wyoming queer." We make assumptions that a small town couldn't possibly be tolerant and Big Eden suggests that we look beyond preconceived notions.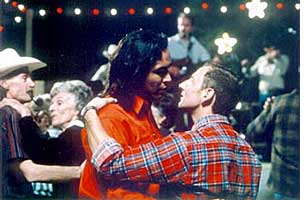 Sadly though, despite what Big Eden presents, hatred still exists in our world. The realist in me is unable to accept this town's complete lack of queer panic. But movies are about suspending belief and Big Eden exudes such charm that it's possible for a cynic like me to get sucked into its naive dreams. The film's title says it all. This is director Bezucha's dream world and he's welcome to his fantasy. After a slightly creaky start, I began to love this movie. The best way to enjoy Big Eden is to see it as a fable. Dreams can come true in fairy tales even if harsh reality often tells a different story.
Big Eden's central premise is almost universal. Most gay men have loved (or at least lusted after) a straight friend in their youth. I am no exception. The romantic in me wanted to see Dean sweep Henry away to his cabin and live happily ever after. I was also touched by the affection that Pike Dexter held for Henry. His shyness and yearning for Henry is so heartfelt that I hoped to see him capture Henry's affection. Which one does Henry wind up with? You'll have to rent the film and find out.
The performances are top-notch. Arye Gross plays an ordinary "everyman" who is just nerdy enough to inspire sympathy and comic relief without becoming a cartoon. It was also a pleasure to see Louise Fletcher in perhaps her best film role since One Flew Over The Cuckoo's Nest. After seeing her talents wasted for years in drek like Flowers in the Attic, it was a revelation to see how warm and loving she can be. Eric Schweig steals the movie as the lovesick Indian. Seeing a gay Native American was also a first for me in this film. It was refreshing to see gay men in a film who aren't just the buffed gym bunnies of Queer as Folk.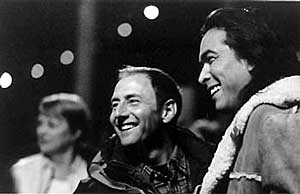 The photography is often breathtaking and the cabin interiors evoke Andrew Wyeth paintings. The town and its quirky inhabitants are reminiscent at times of Northern Exposure (which featured another tolerant township) and quiet humor often builds from anachronisms found in the unexpected. The script is strongest when it conveys the awkwardness between the principals with silences and characters at a loss for words, rather than rapid-fire Capra-esque dialogue. Big Eden could have easily degenerated into a silly screwball comedy.
Unfortunately it loses steam near the end. A major confrontation lacks the punch that it should have, and the ultimate denouement could have been reached without the 20 minutes that preceded it. Still, despite its flaws, Big Eden cast a spell over me during its middle half despite my stubborn refusal to believe in the warmth of this mythical town. Like Dorothy says, "there's no place like home."
Bezucha extracts remarkable and natural performances from most of his actors for a first-time director and shows great promise as a filmmaker. The fact that his next effort, currently in production, is called Fucking Hate Her fills me with hope that he won't get stuck in a nostalgic Lake Woebegon mentality for the rest of his career. If you were charmed by the loving father in The Sum of Us, chances are that you will embrace this film. The San Francisco Examiner called it "the best date movie around" and, judging from all the awards that it won at gay/lesbian film festivals,Big Eden obviously struck a chord with audiences too.
For DVD collectors, Big Eden is the first gay-themed film to receive the double disc special edition treatment. Extras on the discs include a director's commentary, deleted scenes, cast & crew interviews and recipes for Pike Dexter's gourmet dinners.