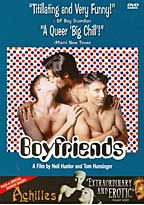 Boyfriends
First Run Features,
1995
Directors/Screenplay:
Tom Hunsinger,
Neil Hunter
Starring:
James Dreyfus, Mark Sands, Andrew Ableson, Michael Urwin, David Coffey, Darren Petrucci, Michael McGrath, Russell Higgs
Unrated, 81 minutes
Achilles
First Run Features,
1995
Directed and animated
by Barry Purvis
Narrrated by:
Derek Jacobi
Unrated, 11 minutes
Desire Under The Elms
by Michael D. Klemm
Reprinted from Outcome, July, 2003
Misleading sound bites often determine our viewing habits. A blurb on the DVD box of this month's entry, an independent British ditty entitled Boyfriends, calls the film a "gay Big Chill." Another compares it to Terrence McNally's Love! Valour! Compassion! These are easy ways to label the film but ultimately only describe its surface. Their common thread is the plot of old friends spending a weekend in the country. Those familiar with the genre know that the weekend will include accusations, recriminations, brimming sexual tensions, probably some bed-hopping, and finally some voyages of self-discovery.
Boyfriends follows this formula but also unfolds in unexpected directions. Boyfriends stars three male couples, each with serious relationship issues. Paul and Ben, partners for five years, seem on the verge of breaking up. Ben talks to plants while Paul drinks and treats Ben like a doormat. Angry and combative, Paul mourns his brother's death while making life miserable for his sensitive partner.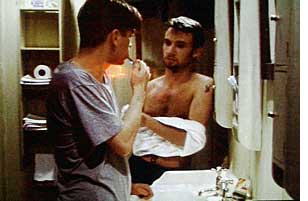 Their best friends, Matt and Will are bringing their new "boyfriends" to the weekend retreat. Matt, who over-romanticizes everything, thinks he has found Mr. Right with Owen - who actually wants to split without breaking Matt's heart. Will is a social worker who has just spent a one night stand with Adam, a young man he counseled as a teenager. Each is in for an unpleasant surprise over the weekend when the bedroom shenanigans begin to rival the ones in Dangerous Liaisons.
This is a dysfunctional bunch. For starters, Paul and Ben decide to break up just moments before company arrives. Matt introduces an object of affection who acts like he doesn't want to be there. Will's young trick announces that he'd rather sleep on the settee downstairs and then tries to initiate a three-way with Matt and Owen. When that goes awry, he hits on the vulnerable Ben. The unexpected arrival of James, the surviving partner of Paul's late brother, adds to the tension - because he shared an anonymous shag with Owen on the road just hours before.
For some, this might be familiar territory but there is a rawness to the goings-on that grips the viewer. It is clear from the onset that each of these couples are hardly golden anniversary material. The script masterfully introduces each pair with small, subtle touches that define their various problems immediately. Ben is annoyed that Paul smokes next to a plant and an argument escalates from there. Matt's propensity for "smothering" his lovers is clear as he dishes up a huge "three month anniversary" breakfast while Owen refuses to get out of bed. The whorish Adam is first seen stepping on a tube of lubricant and then attempting to sneak out of Will's apartment so he doesn't have to endure awkward "morning-after conversation." This ensemble comedy-drama devotes equal screen time to all.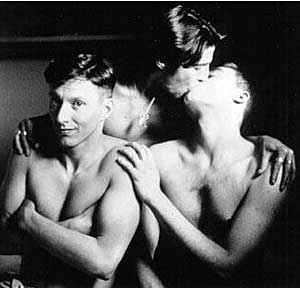 Paul, however, dominates in much the same way that the bitchy Michael does in The Boys in the Band by being both loathsome and pathetic at the same time. The man's charisma is apparent when he's not being a bitch, yet you'd love to smother him with a pillow when his claws come out. Still, his attempts to reconcile with Ben are heartfelt and believable.
The realism of Boyfriends is strengthened by the unknown faces; there are no token castmembers from Dawson's Creek thrown in as a gratuitous audience draw. I have to be honest, this is a very low budget film. Some of the photography and editing is clumsy but I can forgive when the writing aspires beyond the least common denominator. Minimalist, its power comes from a sharp script, coupled with fine, understated performances. A final plus is the absence of a background score. A scratchy 1940s record, "I Wish I Knew the Name of the Boy in my Dreams," is used as for transitions and gives Boyfriends a Woody Allen-ish feel.
A striking short, included on the DVD, is itself worth the price of the disc. It's called Achilles and it is directed by the out animator Barry Purves. Using very expressive marionettes, Achilles distills Homer's Iliad into eleven minutes, giving emphasis to the story of the Greek warrior's love for the young soldier, Patroclus.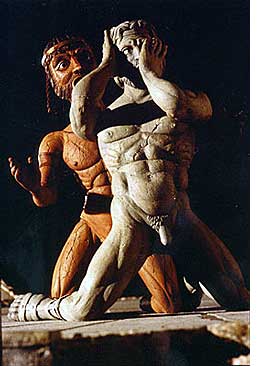 [Note from 2007: Yes, this is about two of history's most passionate gay lovers. Unlike the big budget computer graphics extravaganza Troy with Brad Pitt, where the writers turned Achilles and Patroclus into cousins. The fact that Troy was helmed by out director Wolfgang Petersen, whose first film was the gay themed The Consequence makes this all the more maddening. For more on Achilles' animator, and his films, log on to barrypurves.com]
The Trojan War is the backdrop for their relationship, and this delightful short stays true to Homer - as opposed to every Hollywood adaptation. One of its most delightful moments is the illicit love affair between Helen of Troy and Paris being re-enacted by the two men wearing masks.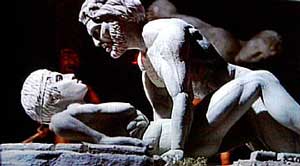 Picture, if you will, cracked Greek statues, classically muscular and anatomically correct, that move as fluidly as human beings. Achilles and Patroclus wrestle, bathe each other, and have sex that is, in turns, tender and aggressive. Believe it or not, these puppets are more sensual and erotic than any love scene filmed. Narrated with force by the great Derek Jacobi (I, Claudius), this is a one-of-a-kind animated short that jettisons computer graphics for more traditional methods and the effect is beyond words. A note to DVD owners: netflix.com has it for rent in case no one in town stocks it.
More On Derek Jacobi:
Love is the Devil