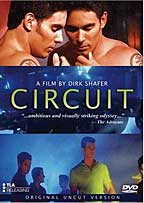 Circuit
TLA Releasing, 2001
Director: Dirk Shafer
Screenplay:
Gregory Hinton and
Dirk Shafer
Starring: Jonathan Wade Drahos, Andre Khabbazi, Paul Lekakis, Kiersten Warren, Brian Lane Green, Daniel Kukan, Darryl Stephens, Willliam Katt, Nancy Allen, Bruce Villanch
Unrated, 130 minutes.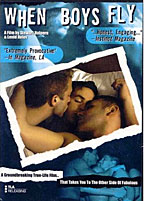 When Boys Fly
TLA Releasing, 2000
Directors:
Stewart Halpern and Lenid Rolov
Unrated, 60 minutes
Where The Boys Are
by Michael D. Klemm
Reprinted from Outcome, February, 2003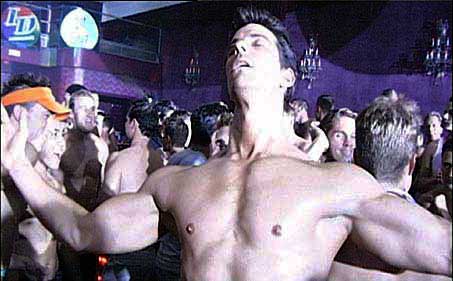 A young man, handsome and shirtless, dances to a pulsating techno beat. Standing before a lavatory mirror, he inhales designer drugs and steps back to admire his body. More music, more strobe lights, more dancing, then quick sex. The images flash by in seconds and then reveal him passed out on the floor in a toilet stall.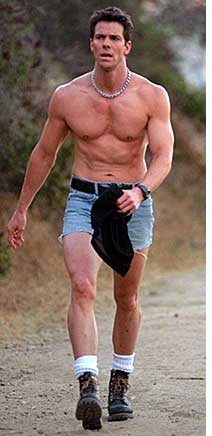 This dizzying montage sets the tone for Circuit, a new film, written and directed by Dirk Shafer (Man of the Year), which chronicles the highs and lows of gay circuit parties. Jonathan Wade Drahos stars as John, a closeted midwestern cop who is outed on the job. After he is assaulted by his fellow officers, he takes the advice of the sympathetic captain who suggested that he move to an environment "more conducive to his lifestyle" and heads off to West Hollywood. It's soon apparent that he's not in Kansas anymore when he discovers the world of clubs, drugs and beautiful men.
John is introduced to the scene by his cousin Tad, a struggling filmmaker who is making a documentary about circuit parties. Tad brings John to a film industry soiree where he meets Hector (Andre Khabbazi), a handsome Latin hustler who only has sex for money. Hector, at first amused by this new kid on the block's innocence, takes John under his wing and transforms him into his mirror image. Together they take a walk on the wild side into a Dante's Inferno of drugs and sex.
Secondary characters include Bobby, (Paul Lekakis), a porn dancer who is the focus of Tad's documentary. Bobby is HIV+, lives fast, and injects penile implants to counteract his impotence. ("It's for my fans, they expect a certain image," he explains to Tad and his camera.) Tad, caught up himself in the circuit scene, has just broken up with his longtime lover, Gill, to be with a "psycho guru DJ." There is also Nina, John's old college friend who is trying to make it as a stand-up comic. She functions as both a fag hag and as a Jiminy Cricket-style conscience when John's behavior gets out of hand. William Katt plays Gino, a seedy promoter who deals drugs on the circuit, and Nancy Allen plays his abused wife. A major subplot involves Gino having bought Bobby's life insurance policy and his subsequent anger that the young man is responding to treatment and not dying.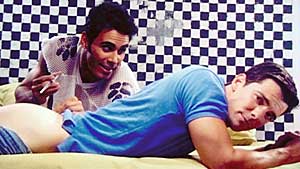 John is, at first, a complete neophyte who is corrupted like Oscar Wilde's Dorian Gray. He resists the drugs initially but is soon seduced to the dark side. His first time on designer drugs is accompanied by a techno remake of the classic Jefferson Airplane song, "White Rabbit." The scene is both alluring and disturbing; a rapid montage of close-ups through a glass pipe are intercut with family photos that look on with disapproval at the hot sex between John and Bobby.
And then there's Hector, Circuit's most complex character. He has been playing the game for so long that he hates himself for it yet still goes along for the ride. He loathes himself but still finds solace in drugs. Approaching 30, and scared that his looks are fading, he is also addicted to plastic surgery and often stares at the mirror to see if his implants are shifting. He is also secretly in love with John but refuses to break his rule about no sex without money changing hands. Their destructive relationship peaks when he asks John to have sex with him while a client watches. After a trick tells him he's too old, Hector hits rock bottom. Tweaked out of his mind, he makes love to his reflection in a mirror.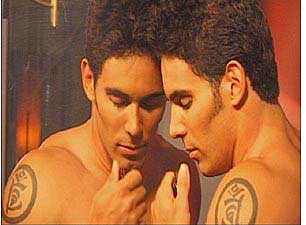 The film meanders along with the aimless lives of its protagonists. Circuit seemed strangely reminiscent of Fellini's classic La Dolce Vita, another film which depicted the good life, beautiful people, parties and an ultimately shallow lifestyle. Though not quite in the same league, Circuit shares with Fellini's opus an episodic and chaotic structure that mirrors the lives depicted onscreen. The circuit has long been the subject of controversy. As fundraisers for AIDS charities, the events are a mass of contradictions. While raising much needed funds, the parties promote behaviors that often cause the illness in the first place. Yet these parties also provide an undeniable camaraderie. Director Shafer is candid in his depiction of the circuit. On one hand he condemns the excesses while at the same time his camera revels in every hedonistic moment. To present it otherwise would be dishonest. The party scenes are electric, filled with eye candy. The music is seductive, the editing fast paced and frantic ala the club scenes on Queer as Folk. The glamour is featured front and center. Bobby sums it up best when he calls it " a gay man's Super Bowl. It's tribal. It's fraternal. The circuit's been my family."
Circuit is a great soap opera that could easily have degenerated into a gay version of Valley of the Dolls, (it does come close in spots), but the filmmakers successfully avoid that trap. Circuit explores all the facets of the experience, the good and the bad. There is redemption in the end, some of it a bit forced perhaps, but all in all this is a satisfying film which tells both sides of the story without being overly preachy. The director's cut is 130 minutes while the R-rated version is trimmed by 8 minutes. It could use a little tightening up, and there is a lot of gratuitous flesh but would anyone want to see such a movie without these sights included? The actors all do a fine job, though Drahos as John could have perhaps toned down his "gee-whiz" smiling in the beginning. He is totally convincing however as a club stud and his stoned scenes with Hector exhibit a scary intensity. The DVD features a director's commentary and over 30 deleted scenes mixed with behind-the-scenes footage.

Darryl Stephens also appeas in:
Boy Culture
Another Gay Movie
Hot Guys With Guns
A companion film is When Boys Fly, a documentary about the circuit. Resembling a much more explicit spawn of MTV's The Real World, When Boys Fly was shot on digital video by Stewart Halpern and Lenid Rolov and follows the exploits of several young gay men, of varying backgrounds and experience, who attend Florida's White Party.
The cast is large but four men dominate the interviews. Tone, aged 21, is a total party boy with a serious drug abuse problem. Brandon, 23, is a virgin on the scene who has no gay friends and seeks a sense of community. Todd, 35, is a circuit regular who is trying to capture the thrills he missed in his closeted youth. And Jon, 19, is Todd's new boyfriend who is abandoned at the party. Each of them have compelling stories to tell, all the more so because this is for real and not fiction. Their monologues are edited together in such a way that a smooth narrative flow with dramatic arcs is sustained. This may be a documentary but it is as gripping as a fiction film.
It is difficult to watch these exuberant young men who are oblivious to the damage they are doing to themselves. But joy and pain intermingle. Brandon dismisses most of the people as being shallow but then sees two men proposing marriage on the dance floor. Tone, a walking drug store, calls the level-headed Brandon a "stick-in-the-mud" while Brandon wonders if Tone will still be alive in another six months. He isn't far off; Tone suffered a stroke a year later.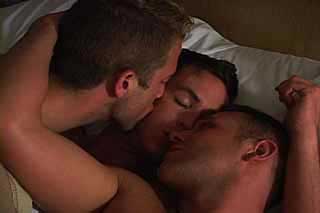 Like Shafer's film, When Boys Fly celebrates the camaraderie of the circuit but its tone is far more condemnatory. Dissenting viewpoints accompany the opening sequence of dancing party boys and ambulanced overdose victims. Circuit's narcissism is even more pronounced this time around. When Boys Fly holds up a mirror and sometimes it isn't what we want to see. Yet all is not dark. Tone takes GHB, despite his promise to stay clean, but a friend is there to make sure he took the right dose. In another memorable moment, Brandon gets so caught up in the euphoria that he inexplicably calls his mother from the dancefloor. This is not your typical banal reality TV.
When Boys Fly is only 60 minutes long but tells a complete story that packs quite a punch. And, like a good documentary DVD should, the raw materials from its creation are preserved. Those wondering what wound up on the cutting room floor can watch numerous deleted scenes as well as interviews conducted with the principals two years later. A very worthy DVD for any collection.
More on Stewart Halpern:
Pageant
Jim J. Bullock also appears in:
Role/Play