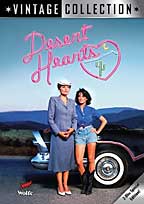 Desert Hearts
Wolfe Video,
1986
Director:
Donna Dietch
Screenplay:
Donna Dietch, Natalie Cooper, from the novel by Jane Rule
Starring:
Helen Shaver, Patricia Charbonneau, Audra Lindley, Denise Crosby, Andra Akers, Dean Butler. Gwen Welles, Jeffrey Tambor
Rated R, 96 minutes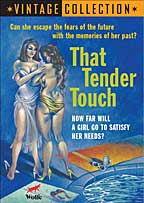 That Tender Touch
Wolfe Video,
1969
Director/Screenplay:
Russel Vincent
Starring:
Sue Bernard, Bee Tompkins
Rating: R, 80 minutes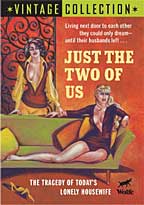 Just The Two
Of Us
Wolfe Video,
1975
Directors:
Jaque Beerson, Barbara Peeters
Screenplay:
David Novik, Barbara Peeters
Starring:
Elizabeth Plumb, Alisa Courtney, John Aprea, Jamie Cooper, Laura Patton, Vince Romano, Wayne Want
Rated R, 82 minutes
Women In Love
by Michael D. Klemm
Reprinted from Outcome, September, 2007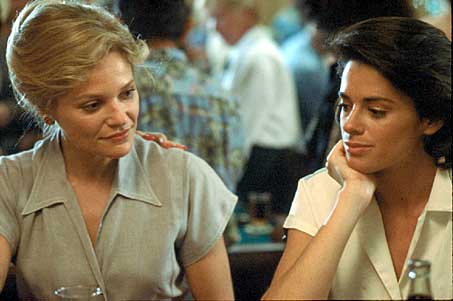 "[I made Desert Hearts] because I wanted to see a film with a love relationship between two women that didn't end in a bisexual triangle or a suicide."
-Donna Dietch
1986 was a landmark year for independent queer cinema, submitting - for our approval - two of the genre's greatest films: the late Bill Sherwood's Parting Glances, and Donna Dietch's Desert Hearts, which is now available in a 2 disc special edition from Wolfe Video.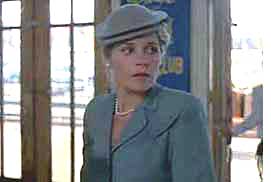 Lesbian cinema was born with Desert Hearts. With the exception of John Sayles' bleak, but honest, 1983 Lianna, lesbians only existed in most commercial Hollywood releases to titillate hetero men. Mariel Hemingway turns straight at the end of 1982's Personal Best. Catherine Deneuve and Susan Sarandon enjoy a long sensual interlude in 1983's The Hunger but they're not really lesbians, they're vampires. Desert Hearts was a first, a landmark. Two women could finally fall in love without a man "curing" one of them and the other committing suicide or having a tree fall on her (see Sandy Dennis in 1967's The Fox).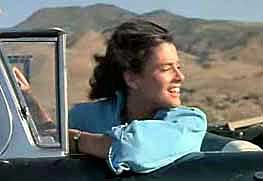 The year is 1959. A train pulls into the station. A statuesque woman, resembling a Hitchcock heroine in both manner and dress, emerges. She is Vivian Bell, (Helen Shaver), a repressed Columbia professor who has come to Reno to obtain a quickie divorce. "We were a professional couple," Viv tells Francis (Audra Lindley), the owner of a dude ranch where she will stay for the six week residency requirement. On the way to the ranch, Francis' free-spirited stepdaughter, Cay Rivvers (Patricia Charbonneau), makes one of queer cinema's greatest entrances as she drives past them backwards in her hot rod. Viv wonders why she didn't stay at a hotel.
Viv is used to "order" in her life; little does she realize the journey she is about to take. She keeps to herself for the first few days before sharing a drink with Francis. While Viv recounts a marriage that was all facade, her host cherishes the memory of her late husband. Francis lives at the ranch with her son, Walter, and her stepdaughter, Cay. They are all she has, but she shakes her head when she talks about Cay.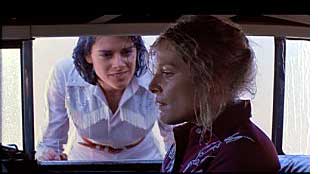 Cay, we soon learn, likes women and everyone seems to know but doesn't ask or tell. This doesn't stop her boss, Darryl, who refuses to take the hint. (Later, when he notices Cay looking at Viv, he remarks that she's "way out of her range with that one.") Cay's one confidante offers what advice she can and listens sympathetically while Cay tells her that she thinks she has finally "found someone who counts."
The courtship of Vivian and Cay is your classic opposites-attract story and the Sapphic angle unfolds before our eyes in a believable manner that, up until 1986, had never been seen on the screen before. It begins awkwardly with Viv discovering another woman in Cay's bed. Though shocked, she still finds herself drawn to the free-spirited cowgirl. (I've been wondering if Cay's name starts with a "c" to invoke James Dean's rebellious Cal in East of Eden.) The two women go horseback riding and Viv lets her hair down and buys western clothes when Cay takes her shopping. When one of the other women staying at the ranch tells Viv that Cay was thrown out of school for "unnatural acts," an annoyed Viv replies "Shall I raise my eyebrows and gasp?" But Viv still asks Cay "Have I misled you in some way?" before surrendering to that famous hot kiss in the pouring rain.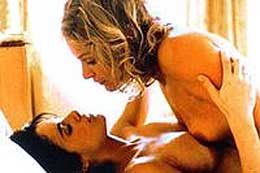 Their big love scene is remarkable for many reasons. There is no flashy cutting or seductive background music as the two women slowly discover each other. It is one of the most tender, yet erotic, scenes in all of cinema, highlighting Viv's initial fear as it gives way to total abandon. Director Dietch filmed it on the next-to-last day of the shooting when the actresses' comfort level was assured.
As reported in The Celluloid Closet, Vincent Canby viciously attacked Desert Hearts in the Times, complaining that there wasn't enough information about Viv's failed marriage in order for the audience to accept her "hysterical response." In other words, the only reason a woman could possibly turn to another woman would be because of a bad experience with a man; this was a typical clueless straight male's hysterical response. Some queer reviewers found the ending to be too happy for a film that takes place in 1959, but the same can also be said about E.M. Forster's 1913 novel Maurice (published posthumously in 1971 and filmed in 1987).
Desert Hearts is beautifully acted and filmed, with a terrific country and rockabilly score that includes Patsy Cline. Johnny Cash, Buddy Holly and Elvis Presley. Based on the 1964 novel Desert of the Heart by Jane Rue, Dietch changed the names but retained the central theme of risk - the Reno casinos being a metaphor for the ladies' forbidden relationship. Also examined is the great class divide. Romance and social relevance exist side by side in a very pleasing stew. Aside from a line or two of clunky dialogue, the film never rings false. It was a great movie in 1986 and it's still one today.
The film gets the deluxe 2 disc DVD treatment with a full length commentary, interviews, trailers and the raw footage for the love scene. This one is a keeper.
At the other end of the spectrum, we have - also courtesy of Wolfe Video - two "dykesploitation" films from the 60s and 70s. You truly haven't lived until you've seen That Tender Touch (1969) and Just The Two Of Us (1975), two dreadful movies that make Valley of the Dolls seem like it was written by Eugene O'Neill. Throw a party, get as many friends together as you can, drink large amounts of alcohol, and watch these two atrocities. We're talking Reefer Madness territory here.
That Tender Touch relates the "sad" story of lesbian lovers Marsha and Teri. Marsha's life revolves around Teri and she is devastated when Teri runs off and marries Ken. She shows up on their doorstop and becomes their house guest. An oblivious Teri prances around in provocative clothing as Marsha begs, pleads and grovels to win back her affection. Wait for the scene where Marsha chases a giggling Teri around the house and wrestles her to the floor. The ghost of The Children's Hour haunts the melodramatic finale.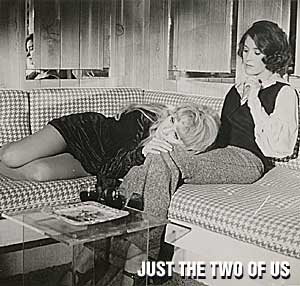 Just The Two Of Us is more of the same nonsense. Denise and Adria are best friends whose husbands are always away on government business. Their life changes after seeing two young women hold hands in an outdoor cafe. Adria is shocked but Denise asks if it is really so terrible. The inevitable seduction occurs like clockwork but then the suddenly slutty Adria runs off with a swinging bachelor. Denise wanders around in a daze a lot to awful 60s-sounding music, finally fleeing a pool table seduction with a British vamp. Adria's husband comes home to find her with another man and you can guess the rest. At least this one ends happily - sort of - for the two ladies.
These were not designed to be groundbreaking lesbian films; in fact if you click on the poster for That Tender Touch below to see the larger view you will see a tagline that reads "A woman's picture every man should see!" Both movies are distinguished by terrible scripts and even worse acting. Like most exploitation films of the era, they tease a lot and show very little. Look for the Love Story school of romance with scenes of horseback riding, rolling in the grass, riding a bicycle built for two, and carousing on a carousel. See wild hippie parties complete with hilarious performance art. See horrendous decorating and check out that green shag carpeting on the Brady Bunch stairs. See the worst seduction scene ever filmed. Add your own dialogue as you reflect on how far we have come.