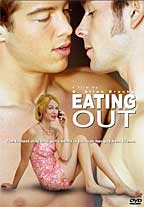 Eating Out
Ariztical Entertainment, 2005
Director/Screenplay:
Q. Allan Brocka
Starring: Scott Lunsford, Jim Verraros, Emily Stiles, Ryan Carnes
Unrated, 90 minutes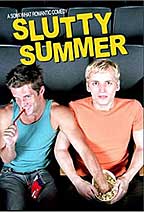 Slutty Summer
TLA Releasing, 2005
Director/Screenplay:
Casper Andreas
Starring: Casper Andreas, Jesse Archer, Jamie Hatchett, Jeffrey Christopher Todd. Virginia Bryant, Christos Klapsis
Unrated, 85 minutes
The Good, The Bad and the Gorgeous
by Michael D. Klemm
Reprinted from Outcome, December, 2005
There are no certainties in life but there is one thing I can always count on: whenever The Advocate does a Summer Movie Issue, they have an uncanny knack for picking one of the worst films of the bunch to feature - with attending beefcake - on the cover.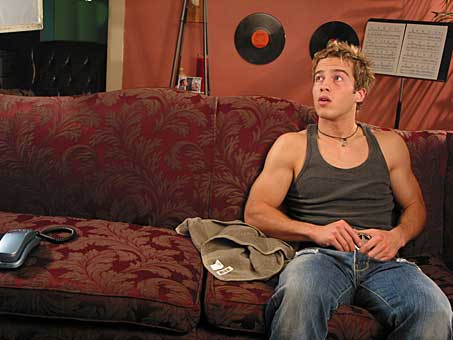 This year's choice was Eating Out, a juvenile sex farce that is emblematic of everything that is wrong with much of queer cinema today. Exhibit A: the plot. Caleb is a hunky straight guy who pretends that he is gay, at the advice of his gay roommate Kyle, so that he can land Gwen, the girl of his dreams. Gwen is the quintessential fag hag who only falls for gay men. Kyle, who has the hots for Gwen's buff gay roommate Marc, hopes that his plan will climax with Caleb landing Gwen while he finally gets Marc to himself.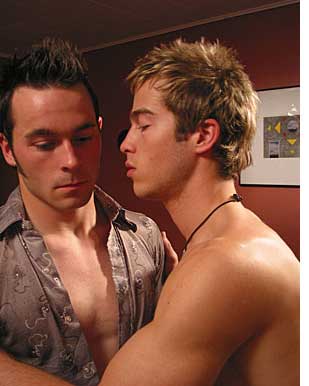 The movie is as stupid as it sounds. Forget logic, director Q. Allen Broka is not a disciple of Mr. Spock and even a sex farce should make some sense. Belief should not go out the window, like when Marc, who only sleeps with other gym rats, confesses later to Kyle that he was too shy to ask him out. Yeah, right. However, I have to grudgingly admit that the long central scene where Caleb has phone sex with Gwen while Marc is getting him off (don't ask) was funny and sexy and almost made watching this film worthwhile. Eating Out features chiseled torsos galore - and they go the full monty - making it at least easy on the eyes. Look for Jim Verraros, an out American Idol finalist (for those of you who care about such things) as Kyle and Ryan Carnes, the incredibly cute gay gardener from Desperate Housewives, as Marc. By the way, they all looked fabulous on the cover of The Advocate.
Despite its dreadful title, Slutty Summer actually isn't bad. I was expecting the worst when I saw the title and realized that the director, writer and star were the same person. Danger, Will Robinson! Most young actor/auteurs, after all, don't quite have the chops to be the next Orson Welles. (And I'm still reeling from Ben and Arthur and PS. Your Cat Is Dead.) Slutty Summer is hardly Citizen Kane, but this one, unlike Eating Out, at least has believable characters and situations, and I didn't want to eject the DVD before it was over.
Slutty Summer doesn't break any new ground, but it is a pleasant romantic comedy which actually has a lot to say about dating and relationships. Marcus (director/writer/star Casper Andreas) breaks up with his lover of four years after he finds him naked in their bedroom with another man. His friend, Marilyn, gets him a job at a Chelsea restaurant where his fellow waiters all have their own ideas about dating and monogamy. "It's not in man's nature to be faithful," says Luke (Jesse Archer), a professional slut. "The only creature on this planet that is faithful is the seahorse. Oh, and lesbians." The more subdued Peter is saving himself while searching the internet for the right man. The sex-starved Marilyn follows the advice of a book called The Ten Commandments of Dating. She insists that you don't have sex on the first date if you want to find Mr. Right, as opposed to Luke who prefers to look for "Mr. Right Now."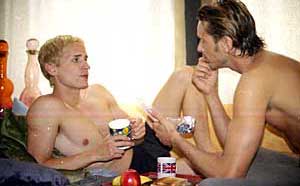 Marcus falls for another waiter, Tyler - a former model who, when it comes to commitment, is cut from the same mold as Brian on Queer as Folk. Marcus and Tyler fall into bed together and discover that each has different views about what their relationship is. Tyler doesn't do boyfriends, but he is attracted to the conflicted Marcus. After agreeing to be friends in an open relationship, they find that things are starting to get serious between them. Flashy camera cuts accompany their first bedroom tryst, which is wild and erotically charged. Later they lay in bed, faces in Bergman-esque closeup, conversing in long unbroken camera takes. Friendship evolves believably into love. Look for a beautifully written, and acted, scene where Tyler describes last night's trick and Marcus asks that they not talk about the other men they see.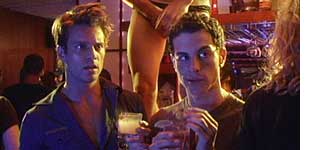 Eschewing a lot of Hollywood gloss, the filmmakers settled for honesty. There is a relaxed and natural quality to Slutty Summer. Despite its low budget, and some initial clumsiness, (not to mention film stock that doesn't match, sometimes in the same scene), the film hits its stride about 15 minutes in and becomes quite enjoyable. Most of the dialogue is realistic, and there is great chemistry between the leads. Their talks about sex are frank and often very funny. Luke and Peter's discourse on the politics of being a bottom is priceless.
Cliches are mostly absent and there is no Queer Eye sidekick providing unwelcome comic relief. It was also nice to see a short scene set in a leather bar that wasn't played for laughs for a change. A few passable incidental songs mark the passing of time but, for a change, the accompanying visuals actually further the plot. (I've complained in the past about terrible songs by someone's relative that pad out a film's length while we watch someone drive a car or stare out a window.) Despite its abrupt ending, Slutty Summer is a diamond in the rough, and a terrific date movie. Not bad for a first film. Hopefully Andreas' next one will have a better title; this one sounds too much like a porn flick.
More on Q Allan Broka:
Boy Culture
Jim Verraros also appears in:
Another Gay Sequel: Gays Gone Wild!
More on Casper Andreas and Jesse Archer:
A Four Letter Word
Between Love & Goodbye
Big Gay Musical, The