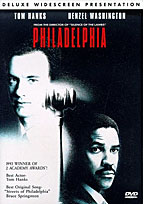 Philadephia
1993
Director:
Jonathan Demme
Screenplay:
Ron Nyswaner
Starring:
Tom Hanks, Antonio Banderas, Denzel Washington, Jason Roberts, Mary Steenburgen
Rated R, 125 minutes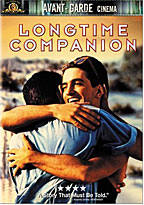 Longtime Companion
MGM Video, 1990
Director:
Norman Rene
Screenplay:
Craig Lucas
Starring:
Campbell Scott, Patrick Cassidy, Mary-Louise Parker, Stephen Caffrey, Bruce Davison, Mark Lamos, Dermot Mulroney
Rated R, 100 minutes
Death Be Not Proud
by Michael D. Klemm
Reprinted from Outcome, December, 1999
The so-called "gay cancer" was first reported in 1981 but it took Hollywood over ten years before it released its first major film about AIDS. While always the first to exploit the latest craze, Hollywood tends to lag behind the general public when it comes to presenting important social issues. In the meantime there had been many fine independent releases. Longtime Companion, one of the most vital of these, will be discussed later in this review. Philadelphia, Hollywood's first "big" film about the disease, hit theaters in 1993 but, typically, failed to deliver on its promise.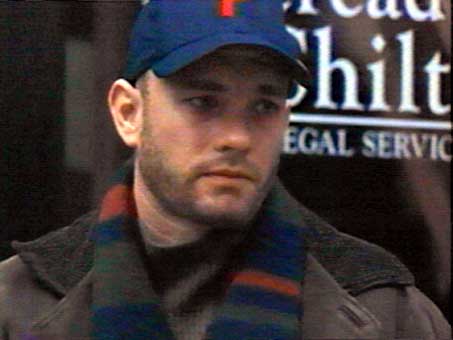 Tom Hanks stars as Andrew Beckett, a young lawyer who has chosen to conceal his illness from his very powerful employers. He has supposedly been fired for poor performance but it is painfully obvious that the real reason is because he is a gay man with AIDS. He decides to sue the law firm and the resulting court trial predictably turns ugly, with wanton ignorance and homophobia at every turn. In the end, Andrew wins the case but succumbs to the disease.
Philadelphia was a movie filled with good intentions but suffered from concessions which severely compromised its integrity. This is because it was ultimately designed to appeal to straights. On the plus side, Philadelphia did a lot to educate straights about AIDS and about discrimination. It can be argued that movies are simply entertainment and it is not Hollywood's job to educate the public. But the film was calculated to do this, as is apparent in the casting of Tom Hanks in the lead role.
Hanks is, in some ways, this generation's Jimmy Stewart, an "everyman" onscreen. And seeing everyone's favorite actor become ravaged by AIDS before their eyes was an eye opener for the masses. Meanwhile, Hank's bosses are presented in an unsympathetic light and Denzel Washington's former ambulance chasing lawyer comes to grips with his own homophobia to become Hanks' defender. Tom Hanks went on to win the Oscar for Philadelphia, which was a milestone of sorts.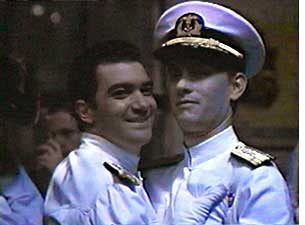 With all that going for it, why did the film fail then to satisfy? Sympathy was generated for Hanks, wasn't it? Well yes, but one of the ways that this was accomplished was by almost completely de-gaying his character. Hanks is supposed to be in a longtime relationship with Antonio Banderas yet you would never guess this from what you see onscreen. With the exception of a scene at a Halloween party where they dance, you never see them express affection. Early on, Banderas appears to kiss Hanks in the hospital, but Hanks' back is to camera and his head completely hides the kiss from the audience. On Hanks' deathbed, Banderas holds his hand and kisses his fingers! Okay, perhaps the filmmakers thought that it wasn't necessary to show them in bed. But then why was it necessary to show Denzel Washington coming home to his wife and getting into bed with her? Why is there also a scene in which we watch the birth of his child? Why does this film, supposedly about a dying gay man, suddenly become more focused on a lawyer who overcomes his homophobia?
In other hands, this might not be as as irritating. Except that the director was Jonathan Demme, who had earlier pushed the envelope on such edgy classics as Stop Making Sense and Silence of the Lambs. He seemed the ideal director to courageously show two men together in a major Hollywood release. It appears that he originally intended to do so because The Advocate once printed excerpts from the script which were cut, and allof them dealt with presenting Hanks' and Banderas' relationship. Instead, compromises were made to make Philadelphia accessible to a mass audience, severely weakening what could have been a much more powerful film.
Fearing controversy, the producers took the coward's way out. The gay community's reaction was in some ways similar to many women's complaints regarding Disclosure, a big budget Hollywood film about sexual harassment in the workplace where the victim was a man. Philadelphia became mostly a courtroom drama so that it could avoid having to depict gay men being intimate onscreen. Ultimately, good intentions do not always translate into fine art. And besides, the subject had already been explored to greater success in quite a number of earlier independent films.
One of the best of these is 1990's Longtime Companion, which was penned by playwright Craig Lucas and directed by Norman René. Its title signifies a common euphemism used to describe a surviving partner in obituaries at the time. Longtime Companion chronicled the effect of AIDS on a circle of friends whose personal, professional and sexual lives cross through nine vignettes, each roughly a year apart. The cast includes Bruce Davison as David, a wealthy gay man who opens his house on Fire Island to all of his friends. Part one begins in 1981 with most of them partying and shrugging off the first reporting of a "gay cancer" in The New York Times, and ends in 1989 with three of the survivors about to participate in an ACT-UP protest. Most of the characters are gay and their lives are presented honestly without concessions.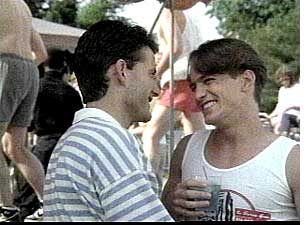 Despite some grueling scenes, Longtime Companion is not a 96 minute downer. It emphasizes how the gay community banded together in the early days of the AIDS crisis, and ends with a vision of hope that is almost liberating after having experienced all those deaths. The viewer is taken through these characters' lives, in sickness and in health. It was also, in 1990, one of the most refreshingly honest films to present gay men onscreen to date. Male couples kiss, sleep together, and act like domestic partners. Longtime Companion is jammed with details which typify gay life in the 80s. Some of the characters go from being party boys to being activists. An entertainment lawyer nicknamed Fuzzy (Stephen Caffrey) leaves his job to be a lawyer for Gay Men's Health Crisis, his lover Willy (Campbell Scott) volunteers his time in a buddy program, and their friend Lisa (Mary Louise Parker) staffs the phones. An actor named Howard (Patrick Cassidy) loses his partner, his job on a daytime soap opera, and then later hosts a workshop theatre performance entitled Living With AIDS.
Unlike Philadelphia, Longtime Companion depicts a very realistic view of gay life and it is often very funny. A beautiful example occurs after David's lover Sean dies. Preparing for his funeral, Willy and Lisa look through his closet to find the right clothes to bury him in. As Lisa looks at some expensive sweaters, Willie pulls a gaudy sequined gown from a rack and holds it in front of him. Lisa says "It needs a hat," and they both break into peals of hysterical, pain-releasing, laughter. Such emotions often co-exist in real life and screenwriter Lucas nailed it in that scene.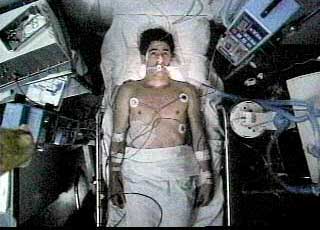 On the other hand, the terror of AIDS is also well represented in a scene where Willy visits Sean in the hospital dressed in surgical scrubs. After Sean kisses him hello on the cheek, Willy uses the bathroom, flushes the toilet with his sneaker, scrubs his face and turns all the faucet handles with towels. The fear is so intense that Willy and Fuzzy stop having sex, even with each other.
The film's centerpiece is Sean's death scene while David holds his hand and says softly "Let go," essentially coaching him through his death. It is almost impossible to watch this scene without being reduced to tears, even on subsequent viewings. Bruce Davison deservedly earned an Oscar nomination for his role as David. His performance is marvelously understated. The acting is exemplary by all and the absence of any large names, unlike Philadelphia's all-star cast, adds to the realism. The casting, however, is rather interesting and is indicative of the degree of commitment that the actors brought to the film. George C. Scott's son, Campbell, played Willy. Patrick Cassidy, younger brother to David and Shaun, appeared as Howard rather than accepting a role that might bring him teen idol status like his older siblings.
Independent films often present controversy as a part of life while Hollywood usually runs away from it, fearing for its box office returns. Philadelphia's refusal to present an accurate picture of gay men onscreen, combined with its banal script, puts it on a par with a typical "disease of the week" television movie. The more honest Longtime Companion, which was produced by Public Television but released theatrically, succeeds on every level. Viewers can rent both films and make up their own minds. Both films can be rented at Rainbow Pride, located in Buddies at 31 Johnson Park, but Philadelphia can also be rented at chain video stores everywhere.
More on Craig Lucas and Campbell Scott:
The Dying Gaul
Mary-Louise Parker also appears in:
Angels in America
Howl
Antonio Banderas also appears in:
Law Of Desire
Interview With The Vampire
Bruce Davison also appears in:
It's My Party
David Drake also appears in
The Night Larry Kramer Kissed Me
Philadelphia
Longtime Companion
See also:
Parting Glances