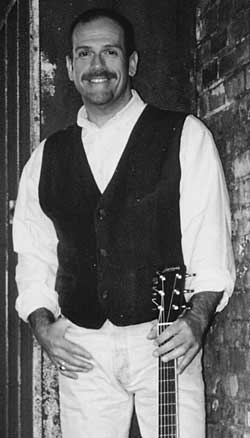 If you knew Mike in his heyday, you would have thought that he'd live forever. To know Mike was to feel inspired. Mike was not only a survivor but, in the words of his partner, he was also a "rescuer." Mike would do anything to help a friend and he always remained upbeat and positive.
When I first met Mike, it was his dream to record a CD of his original songs and he achieved that dream when Consequences of Desire was released in 2001. He enjoyed great respect amongst his peers in the local coffeehouse scene; his CD features numerous Buffalo folk legends including his musical partner Kim Kerns as well as Tim Baldwin, Cathy Carfagna, Kathy Moriarty, Leah Zicari and Allison Pipitone's band, The Cash Cows.
Mike is survived by his partner of 10 years, Kyle Meaker. Kyle, who was with Mike when he died, remembers Mike as a wonderful partner and loving husband with a terrific sense of humor, and says that their years together were the best of his life.
Mike was remembered at a coffeehouse memorial service at First Presbyterian Church on Symphony Circle on Friday, January 12 at 7:30.