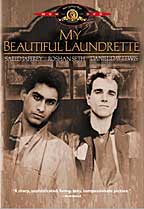 My Beautiful Laundrette
MGM Video,
1985
Director:
Stephen Frears
Screenplay:
Hanif Kureishie
Starring:
Daniel Day-Lewis,
Gordon Warnecke,
Saeed Jaffrey,
Roshan Seth,
Derrick Branche
Rated R, 98 minutes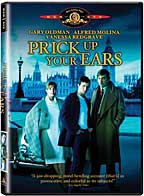 Prick Up Your Ears
MGM Video,
1987
Director:
Stephen Frears
Screenplay:
Alan Bennett
Starring:
Gary Oldman,
Alfred Molina,
Vanessa Redgrave,
Wallace Shawn,
Frances Barber,
Margaret Tyzack,
Anthea Lahr
Rated R, 110 minutes
Indie Picture Double Feature
by Michael D. Klemm
Reprinted from Outcome, May, 1998
Before achieving international success with Dangerous Liasions and The Grifters, Stephen Frears directed two independent films that featured a gay couple at the center of the action. The first, a work of fiction, presented a very positive portrayal of two men in love. The second, a biography on the life of British playwright Joe Orton, was a study in dysfunction to the ninth degree.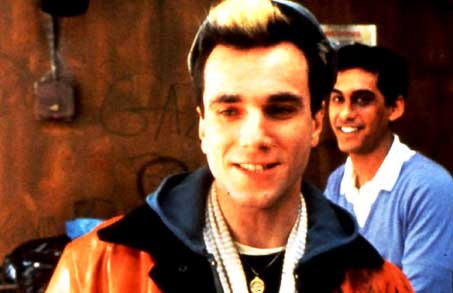 My Beautiful Laundrette (1985) is a tale of "forbidden love" that features Gordon Warneck and a young Daniel Day Lewis as lovers set against a backdrop of the problems faced by Pakastanis living in South London. Warnecke plays Omar, a handsome Pakastani youth who cares for his sick father (Roshan Seth). When Omar goes to work for his seedy and wealthy Uncle Nasser, he is quickly seduced by the London underworld and the lure of fast money. Nasser is played by Saeed Jaffrey (He played sidekick to Sean Connery and Michael Caine in John Huston's film of Rudyard Kipling's The Man Who Would Be King). He hands over the management of a run-down laundrette to Omar, while meanwhile hoping to groom him for a position of power - and marry off his difficult daughter Tanya.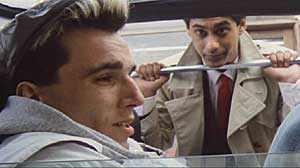 Omar has other plans however. After meeting his boyhood chum Johnny, (a young and hot blonde Daniel Day Lewis), the film veers off into uncharted territories when the two men share a sudden and affectionate kiss. It is a credit to both director Frears and screenwriter Hanif Kureishi (The Buddha of Suburbia) that this moment happens without apology or explanation. Their simple love affair is, in fact, a breath of fresh air amidst the strife-ridden plot.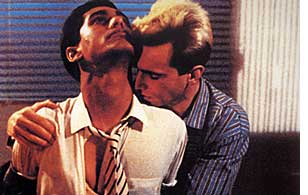 Their's is not the only example of "forbidden love" depicted. Uncle Nassar is having an affair with a white upper class English woman, much to the disgust of his family. Her gaudy white fur coats stand in direct contrast to the more traditionally dressed Indian women back at the Patriarch's home. My Beautiful Laundrette's themes of illicit love and class boundaries are summed up brilliantly in one striking camera shot where the two are seen dancing through the one-way glass of the Laundrette's office while Johnny and Omar passionately make love in the foreground.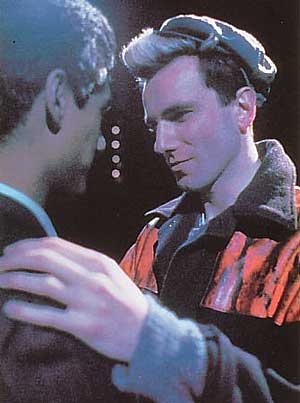 My Beautiful Laundrette is a rich and complex film that examines Pakastani life in London, complete with issues of prejudice, assimilation, and class struggles. Omar's father, once a brilliant journalist in his native land, represents tradition and the old regime, while Nassar believes in England and boasts that one has to know how to "squeeze the tits of the system." Omar is torn between returning to college and making a fast buck. Johnny, on the other hand, is a working class punk who just wants to leave his past behind. His prior affiliation with the National Front eventually causes friction between the two. His affection, however, for Omar is genuine, and he is genuinely hurt when Omar succumbs to the good life and comtemplates marriage with Tanya as a stepping stone to better societal status. "I'm not going to be beaten down by this country," Omar tells Johnny in a fit of confused anger. "When we were in school, you and your friends were kicking me around the place. And what are you doing now? Washing my floor and that's how I like it."
Despite its serious intent and complicated plot, My Beautiful Laundrette is for the most part comic. It was also the subject of much controversy amongst London's Pakastani community when it was first aired. That this was filmed for Britain's Channel 4 is certainly a comment on the sad state of American television. My Beautiful Laundrette contains some of the most tender love scenes between men ever filmed. And it certainly didn't hurt the up-and-coming career of Daniel Day Lewis. (Are you listening Hollywood?)
Prick Up Your Ears (1987) boasts bravura performances by Gary Oldman and Alfred Molina as playwright Joe Orton and his unbalanced lover, Kenneth Halliwell. Orton was the toast of the London stage in the mid 1960s, delighting and shocking audiences with such black comedies as Loot, What The Butler Saw and Entertaining Mr. Sloan. Like Oscar Wilde before him, Orton was gay and his biting satires attacked upper class manners. Both artists were silenced at the height of their craft. In Orton's case, his fall came as the result of a jealous and ignored partner - who brutally murdered him with a hammer.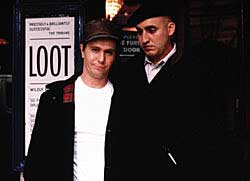 As the film opens, the police find the bodies of both Orton and Halliwell along with a suicide note that states: "If you read his diaries, all will be explained." Vanessa Redgrave is featured as Orton's manager in a framing story with Wallace Shawn, as biographer John Lahr. He is seeking Orton's diaries to research his book on the playwright. Interspersed throughout are the major events from Orton's life: his introduction to Halliwell at college, their joint arrest for defacing library books, success on the London stage, a screenplay for the second Beatles movie that was rejected by Brian Epstien, anonymous sex in public washrooms and, finally, his murder.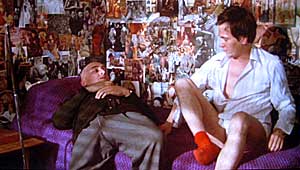 Halliwell, an artist in his own right, collaborated with Orton on many of his works, and was resentful of the lack of attention paid to him. Though he is like every ignored wife that ever graced the screen, the conflicts raised are presented in many shades of gray. Orton is blatantly unfaithful to Halliwell, even resorting to cruising subways and public lavatories. During one of the films's more disturbing scenes, Orton tosses Halliwell's pills at him while yelling "fetch! fetch!" In Orton's defense, Halliwell's whining and mood swings would annoy Mother Theresa. Nevertheless, Molina's portrayal of Halliwell often evokes pity. The saddest moment of the film occurs when he watches, dejected, in the rain as Orton drives off in Paul McCartney's limousine.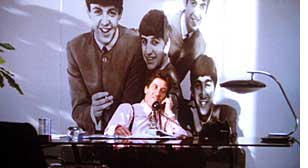 Daring it was, too, for its time in its depiction of sexuality. Orton's cruising is arousing and disturbing at the same time; a scene in a public lavatory looks like Night of the Living Dead after Orton turns out the light. Another scene where Orton coaxes Halliwell into a threeway with a pickup is masterfully filmed and acted - Halliwell is first timid, and then gives in, while Orton leans against a wall and grins. The period detail is excellent and I especially loved the recreation of the famous collage that covered the walls of their flat. Stephen Frears did a good job on this film, and Alan Bennett's script is terrific. Bennett also wrote The Madness of King George and The History Boys. The framing story in which Wallace Shaun researches the book, while his unsung wife transcribes Orton's diaries for him, beautifully doubles the Orton and Halliwell dynamic (The wife gets annoyed when she is ignored by Vanessa Redgrave). Good use of music in the film too, especially The Beatles' "A Day in the Life" at the end. Oh, and the scene where Beatles manager Brian Epstien (sitting in front of a wall-sized picture of The Beatles) rejects Orton's script is a classic. There could have been a bit more about Orton's plays but, aside from that, this film is one of the greats.