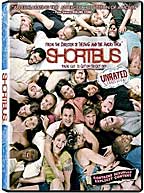 Shortbus
ThinkFilm, 2006
Director/Screenplay:
John Cameron Mitchell
Starring:
Sook-Yin Lee, Paul Dawson, Lindsay Beamish, PJ DeBoy, Raphael Barker, Peter Stickles, Jay Brannon and Justin Bond
Unrated, 102 minutes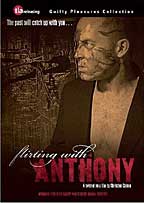 Flirting With Anthony
TLA Releasing, 2005
Director/Screenplay:
Christian Calson
Starring:
Daniel Cartier, Lowe Taylor, Ryan A. Allen, Linus, Ward Montgomery, Mink Stole, Judy Tenuta
Unrated, 88 minutes
Let's Misbehave
by Michael D. Klemm
Reprinted from Outcome, July, 2007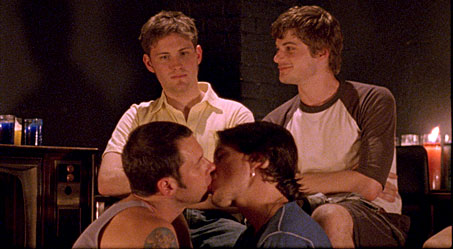 John Cameron Mitchell is one of the most interesting filmmakers working today. His stage sensation and subsequent film, Hedwig and the Angry Inch, deconstructed gender while delivering the most kick-ass rock and roll film in years. Hedwig was a true original and the same can also be said about his second film - a celebration of sexuality in all its myriad forms called Shortbus.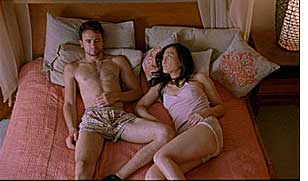 Over the years there have been many landmarks in the depiction of sex on the silver screen; Bertolucci's 1972 Last Tango in Paris being the most famous example - another was In The Realm of the Senses (1976). And let's not forget Bunuel's delightfully naughty 1967 Belle De Jour, starring Catherine Denueve as a bored housewife who moonlights in a brothel. Even more audacious is Shortbus, which pushes the envelope farther than any film before has ever dared. The explicit sex, and there is a lot of it - both hetero and homo, is not simulated. The resulting film is not pornography, even though the Pat Robertsons of the world will surely disagree.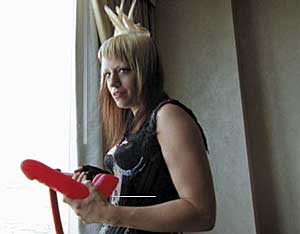 The audience is swept into uncharted waters from the film's first shot as the camera zooms through a paper mache model of New York City. A window overlooking the ruins of the World Trade Center is dotted with dildos and assorted sex toys as dominatrix Severin grows annoyed with her babbling young client. Sophia and her husband Rob are busy copulating in more positions than most couples ever attempt in a lifetime. Jamie, a budding filmmaker, is auto-fellating himself in front of his video camera while Caleb watches from an adjacent window. These explicit tableaux, inter-cut together, are all very funny without being in the least bit salacious. Mitchell's truly subversive humor blossoms when Severin's client ejaculates onto a framed Jackson Pollack painting.
Jamie and James meet Sophia in a disastrous counseling session that ends up with them taking her to visit the titular sex club. Justin Bond (half of the Broadway duo, Kiki and Herb), is the "mistress of Shortbus." As they walk through various orgy rooms, Justin explains that young people come to Manhattan because of 9/11. "It's the only thing real that ever happened to them." Justin calls Shortbus a "salon for the gifted and challenged."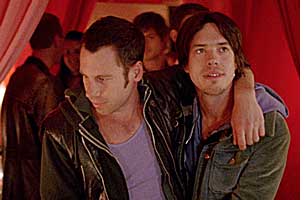 Severin aids Sophia in the search for "the big O." Jamie and James meet Ceth and take him home where, in a spontaneous - if bizarre - moment of patriotism, they sing the National Anthem while engaging in acrobatic 3-way sex. And this is the beauty of Shortbus. Director Mitchell and his cast aren't afraid to take risks but one never gets the feeling that their aim is to shock. Consensual sex is simply shown for the positive life force that it is. A lesbian describes her best orgasm as feeling "like [she] was shooting out creative energy" and that it merged with the rest of the world and there was no more war.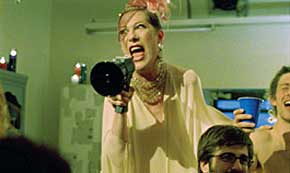 Most of Shortbus is very funny. Jamie is a former child TV star who played a "white trash kid" who was adopted by an affluent black family. "I'm an albino!" was his "dy-no-MITE!" catchphrase. Sophia takes her husband to Shortbus where she inserts a remote controlled vibrating egg into her vagina, gives him the remote and tells him to say "hi" now and then. The settings include "bumblebee kisses" and "techtonic shift." She has a small meltdown when Rob puts it in his back pocket and leans against a wall. Brown-outs occur at key dramatic moments, leading up to the black-out of 2003.
A film that is porn with a plot is Flirting With Anthony, a mess of a movie that marks the film debut of openly gay singer/songwriter Daniel Cartier.
To be honest, the only reason I watched this film to the end was because I have always thought Cartier is hot. I'm still trying to figure out what this film was supposed to be about. Most of it is a slutty sex comedy but it begins like a splatter movie with Cartier (Anthony) as a gang member strapped to a table and being tortured. During the strobe-lit pre-credit sequence he is seen making out with another man (Jack) in a bloody shed that appears to be littered with body parts. For reasons unexplained, Anthony is now a captive but he is rescued from certain death by Jack and the two men go their separate ways.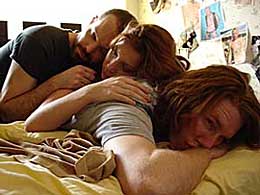 The film shifts gears and Anthony is living with Donna, a girl friend of convenience and her teen-aged gay brother. Anthony and Donna seem to spend most of their time tickling the gay kid. Anthony agrees to drive Donna to another state for her father's funeral. Along the way, there are gratuitous sex scenes as each hires male hookers to come to their motel room, they aid two stranded drag queen motorists, and Anthony's fortune is told by John Waters muse Mink Stole. Then he is forced to confront his past when he meets Jack again in a highway rest stop.
Is the film an examination of Anthony's confused sexuality? Maybe, but are we being asked to identify with a former sadist who dismembered his victims? And why was he suddenly in the hot seat? The movie does not explain these things. David Lynch's films employ dreamlike vagueness to deepen audience involvement but this one is just incoherent. Why does a comedy begin with such repellent violence? In an online interview, writer/director Christian Calson calls the savagery funny. Sorry, but I disagree. (His first movie was Shiner, where two supposedly straight guys got off by beating each other up.) Call this one Psycho Road Trip and rent Fight Club instead.
More On John Cameron Mitchell
Hedwig and the Angry Inch,
Peter Stickles also appears in:
2 Minutes Later
BearCity
Mink Stole also appears in:
Leather Jacket Love Story
Raphael Barker also appears in:
Strapped
For fans of Cartier's music:
Daniel Cartier's Official Website