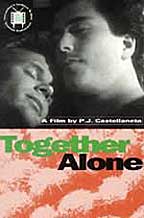 Together/Alone
Wolfe Video, 1991
Director/Screenplay:
P.J. Castellaneta
Starring:
Todd Stites,,
Terry Curry
Rated R, 87 minutes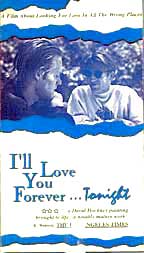 I'll Love You Forever... Tonight
1992
Director/Screenplay:
Edgar Michael Bravo
Starring: Ash Adams, Paul Marius, David Poynter, Roger Shank, Thomas Jane
Unrated, 88 minutes
Strangers In The Night
by Michael D. Klemm
Reprinted from Outcome, April, 1999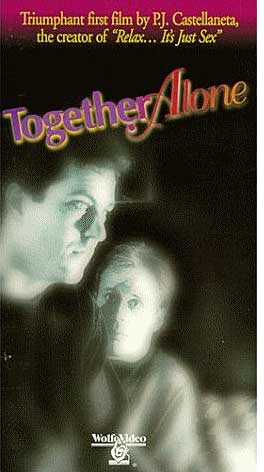 "You go out and try to find someone to make contact with and at first it seems real, but then you realise what you had wasn't really real and so, once the sex is over, you try to get on with your life as soon as possible. It's like a mirage in the desert reminding you of how thirsty you are to begin with."
Together/Alone (1991) marked the debut of writer/director P.J. Castellaneta, whose second feature, Relax...It's Just Sex was a recent hit at the Sundance Festival. Together/Alone was reportedly filmed for only $7,000 and, according to the credits, was produced, written, directed and catered by P.J. Castellaneta.
Castellaneta's first feature examines a one night stand between two men and has been humorously called My Trick With Andre. All of the action in this quiet, black and white drama is confined to a single set; a bedroom. Two attractive young men, Bryan (Todd Stites) and Brian (Terry Curry), meet in a bar and go home to Bryan's one room apartment to have sex. Instead of saying good-bye afterwards, they begin to talk and to nakedly bare their souls. Their post-coital conversation covers everything from AIDS, relationships, sex roles, and reminiscences about lost love from their college days.
Bryan is a single gay man who longs for a relationship. Brian is in town for the week and is looking for nothing more than just a one night stand. As the credits end, both men awake from having had the same dream in which they were flying together and lost their feathers. Bryan then discovers that Bill's real name is Brian and that he lied about his name back at the bar. Bryan is bothered by this deception, as well as the realization that they just had unsafe sex, and he wants to be alone so that he can think.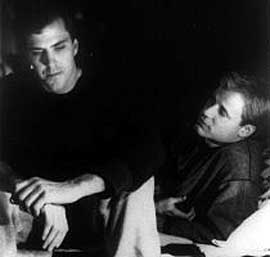 Brian doesn't want to leave, and they start talking about AIDS and the importance of taking responsibility for one's actions. What makes a man gay is also debated, and Brian insists that not all men who sleep with men are gay. The concept of the Yin and Yang is tossed about. Bryan draws a line through the Yin/Yang symbol to demonstrate how there is always a little black and a little white on each side, proving that there are no absolutes in life.
During a long poignant monologue, Bryan remembers Michael, his straight college roommate. Bryan loved Michael but couldn't tell him and instead ran away to Europe to "find himself." Brian then talks about trying to control his desire for men by dating Patricia, a woman who possessed all the strengths that he admired in other men. When he confessed his secret longings for men to Patricia, she was angry for his not being truthful to her from the start and broke off the relationship. Brian finds sex with men to be "more physical, exciting and more muscular" and sex with women to be "softer, more sensual and calming." He lives for the moment after sex when he feels completely at peace and "totally helpless like a fetus" while Bryan wants to "get on with his life" as soon as the sex is over. During their confessions, each man learns a bit about himself and about each other. Ultimately, they realise that they both have acted out of ignorance and self-interest throughout their lives, including this very rendezvous tonight.
Together/Alone is proof that you do not need a big budget to create an engrossing movie. This would also be a very effective story on stage, but then the audience would be deprived of the powerful close-ups that permeate the film. Together/Alone's style is reminiscent of Ingmar Bergman's "chamber movies" of the 1960s as the mise-en-scene often features extreme close-ups of the men both alone and together, photograped often in shadow, and filling the frame. Each actor is often allowed to deliver a long monologue in a single unedited take. At times they speak from opposite ends of the room, but more often they are very close, usually touching or holding each other. Though the sex is never seen, the chemistry between them is both dynamic and erotic, and at times even a little scary.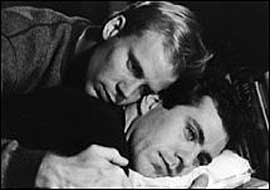 The acting and the writing are both superb and the pace of the film never lags. Together/Alone won the "Teddy Bear" as Best Gay Film at the Berlin Film Festival in 1992 and it's easy to see why. Most viewers can probably relate to the dynamics of the one night stand presented in Together/Alone. This reviewer felt complete empathy with Bryan. Who hasn't, at some point in their life, believed that they had just connected with someone only to discover that they have no possible future together? His disappointment is both heartfelt and genuine. His story of unrequited love with his college roommate also treaded very familiar territory.
Together/Alone is a movie that is simple to understand, yet unfolds in many layers of complexity on subsequent viewings. There are also a few surprises that I was careful not to reveal in this review. P.J. Castellaneta appears to be a director worth watching. If his new film Relax... It's Just Sex never makes the theaters in Buffalo, I look forward to its eventual release on video.
[Reviewer's note, 2008: It's a pity that this film has yet to make its debut on DVD. I've watched this film a couple times again over the years and it holds up pretty well.]

A similar film, but with a larger cast and more exotic locales, is writer/director Edgar Michael Bravo's I'll Love You Forever... Tonight (1992). Sex is also the focus in this black & white independent film which stars Paul Marius as Ethan, a young gay photographer, who is "tired of all the bullshit."
Ethan allows himself to be picked up at a bar in the opening scene. As soon as they have finished having sex, he seems completely uninterested in his trick for the night and asks him to leave. His best friend and fuck buddy, Dennis (Jason Adams), sees that Ethan needs to get away for awhile and invites him for a weekend at a cabana with a private pool in Palm Springs. Ethan's holiday is anything but restful however. For starters, Dennis neglected to tell Ethan that there would be other guests. A trick named Steve accompanies them and, when they arrive at the cabana, Ethan is shocked to find that a former boyfriend named Peter is already there.
Peter is attending with his boyfriend Jeff, though they seem to be on the verge of breaking up. As sexual tensions mount, Ethan eventually realises that Dennis had ulterior motives for the weekend. Dennis wanted to get Peter back together with Ethan so that he could date Jeff after he breaks up with Peter. Steve the trick was along for the ride in case things didn't work out.
I'll Love You Forever...Tonight is filled with images of shirtless men lounging around the pool, as well as in various beds and showers, while its plot contains enough sexual shenanigans to give Dangerous Liaisons a run for its money. But unlike many other gay independent films that take place in similar settings, this one is not a lighthearted romp. The tone is very dark, and director Bravo's touch is serious as he explores the dangerous sex games orchestrated by the shallow and self-centered Dennis. While much of the dialogue isn't quite as deeply probing as in Together/Alone, all of these men also spend a lot of time talking about sex and about relationships that didn't work and about the disappointments in their lives. In the end, Ethan sees what a jerk his best friend is and tries to move on.
The movie is well crafted, but a bit confusing at times. The guests at the cabana look a lot alike and it's often difficult to remember which man is which and which one he is supposed to be paired with. The dialogue is often muddy and badly recorded too. On the plus side however, the film is stylishly photographed. According to Images in the Dark: An Encyclopedia of Gay and Lesbian Film On Video, Bravo's film was made as his thesis while attending film school at UCLA. Because of this film school background, his cinematography evokes images of European cinema instead of looking like a big budget home movie. Visual symbols abound, including a frequent image of Ethan walking across a bridge, while traffic zooms by underneath, as if he were Brando in Bertolucci's Last Tango in Paris. It is also well acted, and each of the characters comes across as more than just a cartoon. It moves along at a good clip without getting boring or too "artsy."
Both films are effective because they deal with real and recognisable people, rather than Hollywood caricatures of what gay men supposedly act like. The situations presented are believable and not in the least bit contrived. Of the two films, the exceptional Together/Alone had the greatest impact for me, but I found both to be worthwhile viewing. Both movies are unrated so their availability at Blockbuster is doubtful. I rented both videos at Rainbow Pride located inside Buddies at 31 Johnson Park.
[Reviewer's note 2009: Looking at this film again, a decade later, I just recognized a name in the credits. A very young, and quite furry, Thomas Jane appears as Ethan's trick in the opening scene.]
More On P.J. Castellaneta:
Relax...It's Just Sex