Ed Wood: Do you know I've even had producers re-cut my movies?
Orson Welles: I hate when that happens.
Ed Wood: And they're always trying to cast their buddies, it doesn't even matter if they're right for the part!
Orson Welles: Tell me about it. I'm supposed to do a thriller for Universal, but they want Charlton Heston to play a Mexican...
-from Ed Wood
spoken by Johnny Depp and Vincent D'Onofrio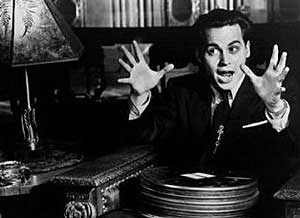 While Whale's films are revered for their impeccable style, Edward D. Wood Jr.'s are remembered for being hopelessly inept. Whale was openly gay. Wood was supposedly straight, but enjoyed wearing women's clothes, especially angora sweaters. Like Whale, Wood also fought in one of the big wars. Unlike Whale, he once parachuted behind enemy lines wearing women's undergarments under his uniform.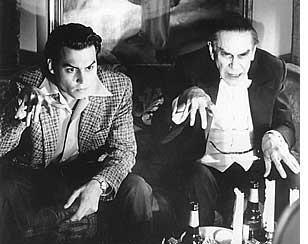 Tim Burton's sweet film, Ed Wood, poses the following question: What if a filmmaker was as passionate about cinema as Orson Welles but possessed none of his talent? Johnny Depp, backed by an outstanding cast, stars as the sublimely ungifted Wood who, with his unconventional circle of friends, are responsible for some of the most amateurish - but entertaining - films ever made. Director Burton focuses on the hilarious obstacles they faced, but also on the touching and poignant friendship between Wood and his star, Bela Lugosi (Martin Landau in an Oscar-winning performance). Wood was ecstatic that an actor of Lugosi's stature would work with him. Lugosi was washed up, and addicted to morphine, and was thrilled just to be working in films again.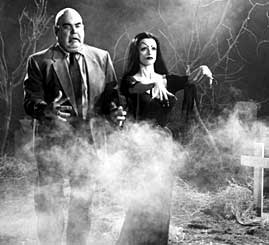 One of the ironies of Wood's films is that despite their low budgets, awful scripts and bad acting, Wood believed in them and his infectious enthusiasm inspired his "ensemble." Glen or Glenda? was supposed to be an exploitative film to cash in on the Christine Jorgenson scandal; Wood tried to make its transvestite hero sympathetic. Plan 9 From Outer Space attempts to condemn mankind's suicidal fascination with nuclear technology but all anyone ever notices is the obvious fact that its late "star," Bela Lugosi, only appears for a grand total of 3 minutes and that a much taller stand-in (with darker hair) holds a cape in front of his face for the remainder of the film.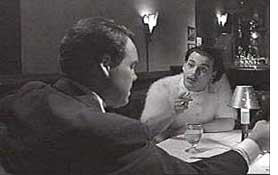 While most of the events are true, Burton indulges in a few flights of fancy, including a fictional scene where Wood meets his hero, Orson Welles. In perhaps the seminal moment of the film, Wood storms off the set, dressed in drag, and wanders into a nearby restaurant to find Welles. It is the "beautiful" Orson Welles from Citizen Kane, (an uncanny performance from Vincent D'Onofrio) and the cinema giant and the not-so-great director share tales of studio interference. This scene beautifully illustrates how both a genius and a hack can be possessed by the same dreams while enduring the same setbacks. Welles ends by telling Woods that "visions are worth fighting for. Why waste your life making someone else's dreams?"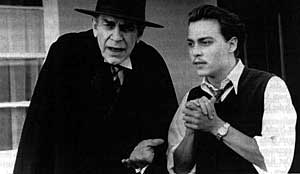 Ed Wood also takes place in the 50s and the same homophobic sensibilities seen in Gods and Monsters are also present here. Wood's girlfriend leaves him because she can no longer take his angora sweater fetish or the "freaks" that he hangs out with. When Wood arrives on the set of Plan 9 wearing women's clothing, the film's backers (who happen to be Baptist ministers!) are horrified.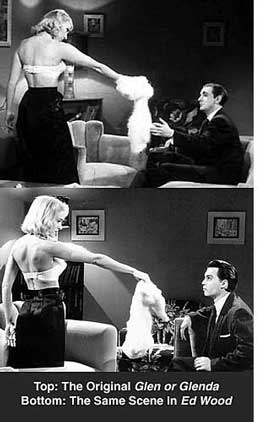 Only a quirky, off-beat director like Burton would even conceive of making such a movie, let alone bring it off with such success. It is not necessary to be familiar with Wood's works in order to enjoy it, but it helps with some of the best "in-jokes." The low-budget look of Wood's films is impeccably re-created. The same is true in the casting of Wood's offbeat circle of friends. Ed Wood offers dead-on impersonations by Landau as Bela Lugosi, Jeffrey Jones as the bogus psychic Criswell, Lisa Marie as Vampira and Sarah Jessica Parker as Wood's actress girl friend. Bill Murray also excels as a lonely and lovable transsexual named "Bunny" Breckenridge. Like John Lithgow's portrayal of Roberta Muldoon in The World According to Garp, Murray infuses sensitivity into a role that could easily have been turned into an offensive cartoon. ("Nix on the nelly," he tells a gang of aging drag queens auditioning for Glen or Glenda, "but don't lose the naivete.")
In other hands, the resulting film might have been mean-spirited but Burton never ridicules Wood and that is a good thing. It is, in fact, one of the greatest movies about filmmaking ever made. Like Gods and Monsters, this is personal cinema at its best. These are two films which get better upon each subsequent viewing. Both can be rented at video stores everywhere.
More On James Whale
Frankenstein, The Old Dark House, The Bride of Frankenstein
More On Ed Wood
Glen or Glenda
More On Tim Burton and Johnny Depp
Sweeney Todd: The Demon Barber Of Fleet Street