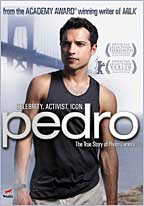 Pedro
Wolfe Video,
2008
Director:
Nick Oceano
Screenplay:
Dustin Lance Black
Starring:
Alex Loynaz,
Justina Machado,
DaJuan Johnson,
Hale Appleman,
Matt Barr, Jenn
Liu, Karolin Luna,
Anibal O. Lleras,
Teresa Hernandez
Unrated, 93 minutes
Pedro's Real World
by Michael D. Klemm
A shorter version first appeared in abOUT, June, 2009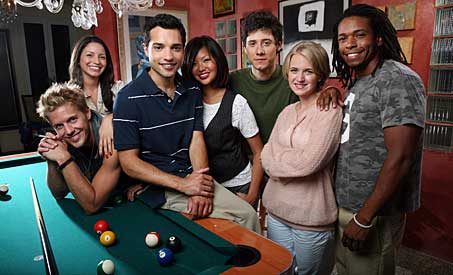 Dustin Lance Black, the Oscar-winning screenwriter of Milk, seems to have been busy this past year. Aside from playing muse to fellow out filmmaker Gus Van Sant, he also contributed the screenplay to another biopic: Pedro, the story of The Real World's Pedro Zamora.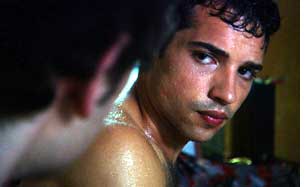 In 1994, the producers of MTV made a bold and ground-breaking decision when they chose an openly gay, HIV-positive Cuban-American named Pedro Zamora to be one of the housemates on their reality show, The Real World. Pedro was 22 years old and had tested positive when he was 17. His tenure on The Real World brought a face to the AIDS crisis as an entire generation of kids embraced the first gay person that they could identify with on television. Pedro used the show as a forum to raise awareness; he even married his boy friend while the cameras rolled and MTV viewers nominated them for the "Favorite Love Story" award.
At the same time, teens also watched Pedro's health deteriorate, exposing them to what most weren't learning in their high school health classes. This had such a cultural impact that then-President Bill Clinton actually phoned Pedro to thank him for his efforts. Regrettably, his health failed quickly after filming was completed, and Pedro died the day after the last episode aired.

This film was produced by MTV and so I wasn't expecting a magnum opus. While not the edgiest biopic I've ever seen, Pedro achieves its purpose and it's not a banal Lifetime TV disease-of-the-week movie. Employing a non-linear structure, the movie manages to touch on most of the young man's remarkable life. It would have been possible, and perhaps preferable to some, to have just assembled a documentary using clips from The Real World but this approach, for better or worse, allows the viewer into the rest of Pedro's life. A few of the highlights include his family's exodus from Cuba, and a boyhood incident in which a Shaman predicted that the young Pedro was born to help others. He gave Pedro a talisman (an ankle bracelet) to "tie him to this earth" before evil spirits could take him away too soon.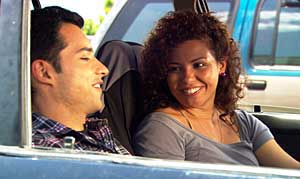 Special emphasis is given to the close bond Pedro enjoyed with his sister (played by Six Feet Under's Justina Machado). Alex Loynaz is likable as Pedro and, while his performance might not be in the same league as Sean Penn's Harvey Milk, it is still heartfelt nonetheless. He captures the man's humor; I especially liked a safe sex lecture in which he stretches out a condom with both hands and announces that if this is too tight for your partner, then he should see a doctor. If it's still too tight, "then tell him to come see me."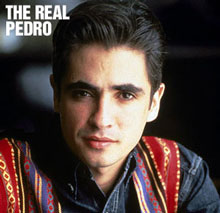 Is this story still important? Well, the Pope just made a proclamation in AIDS-ravaged Africa that condom use increases the plague's spread. Thanks to the Bush administration's obsession with abstinence-only sex education, and a surgeon general who removed all safe sex information from his government website, new cases of HIV infection increased while the village idiot drooled in the White House. So, you do the math.
Only the movie was included on the screener that I viewed, but the finished DVD will feature deleted scenes, Pedro's actual audition tape for The Real World, three episodes from the 1994 series (which will please those who would prefer to watch the real Pedro), and an introduction by former President Clinton.
More On Dustin Lance Black:
Milk
Justina Machado also appears in:
Six Feet Under