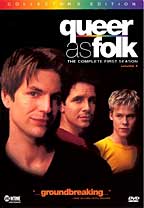 Queer As Folk

Showtime, 2001
American Adaptation:
Ron Cowen and
Daniel Lipman
Directors:
Russell Mulcahy, Bruce McDonald, David Wellington, Kelly Makin, John Greyson, Jeremy Podeswa, Michael DeCarlo
Starring:
Gale Harold,
Hal Sparks, Randy Harrison, Peter Paige, Scott Lowell, Sharon Gless, Thea Gill, Michelle Clunie, Chris Potter
Unrated, (22) 40 minute episodes
Six Feet Under

HBO Video, 2001
Created by:
Alan Ball
Starring:
Peter Krause, Micheal C. Hall, Francis Conroy, Lauren Ambrose, Rachel Griffiths, Richard Jenkins, Freddy Rodriguez, Mathew St. Patrick,, Jeremy Sisto,
Unrated, (12) 60 minute episodes
Queer as Folk
End Of Season Report Card
Six Feet Under
by Michael D. Klemm
Reprinted from Outcome, September, 2001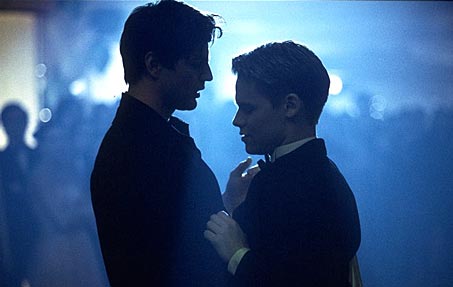 Showtime's Queer as Folk has just ended its first season. From most reports, the groundbreaking series has been almost ignored by most of the radical right wing groups that are usually quick to condemn anything in the media that presents homosexuality in a positive light. Most of the controversy, surprisingly, seems to have been contained within the gay community.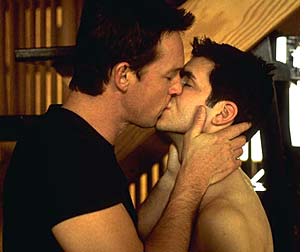 Most readers probably know that QAF is based on a controversial British series, and that both are the most explicit and "in-your-face" gay television programs ever aired. The Showtime edition focus on the exploits of three men: Brian, who sleeps with everyone, Michael, who has pined for him since adolescence, and Justin, a 17 year old who tricks with Brian on his first venture into a gay bar. The supporting characters include their friends Ted and Emmet, Michael's ultra-supportive mother Debbie, and Michael's lover, the control-freak Dr. Dave. Finally there is Lindsay & Melanie, a committed lesbian couple. Brian is the biological father of their baby.
A recent cover story in The Advocate asked if QAF was good for gays. Well, no television series is ever going to satisfy everyone. Many gay critics have complained that the show does not portray us positively because it depicts excessive scenes of promiscuous sex and drug use. Balderdash. Does the population at large think that a film like Fatal Attraction portrays straight people in a bad light? Do African Americans think that a movie like The Boyz 'n the Hood shouldn't be made?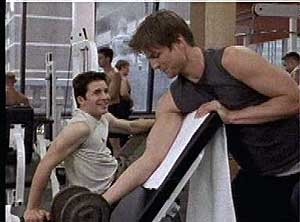 Showtime runs a disclaimer each week that states that QAF represents a small circle of gay friends and is not meant to stand for all of gay society. But let's face it, we all know people like the characters in the show. The bottom line is this: QAF could have been about middle-aged gays in committed relationships who dilligently work behind the scenes to make sure that anti-discrimination bills pass legislatures, but it's not. And the reason it is not about is because such a show would ultimately be boring, If Sex in the City and Red Shoe Diaries can have steamy sexual interludes, why can't QAF?
But QAF is not just about sex. If it were, then the writers would never have been able to sustain interest for 22 episodes. (The same was true for the 8-part British series.) The American version, however, has developed the characters far beyond the original's. It has also explored a lot of issues that the original series never touched on. For everyone who thinks that the new series is just obsessed with sex, here are a few of the new storylines Showtime introduced:
•Lindsay and Melanie take their baby to the hospital. Because Melanie is not a biological "parent," she is forced to sit in the waiting room by a homophobic clerk.

•Dr. David Cameron was once married and fathered a son because he was convinced he could change his sexual orientation.

•Emmet panics over a lab mix-up concerning his HIV test results. After he swears never to touch a man again, he is recruited by an "Ex-Gay" ministry. He is almost brainwashed by them but ultimately comes to his senses.

•Brian is sued for sexual harassment by a gay co-worker who was denied a promotion.

•Justin deals with homophobia at his high school. He tries to make a difference by starting a Gay-Straight Student Alliance which is promptly shut down by a bigoted teacher.

•Michael's Uncle Vic is entrapped by a police officer in a public restroom.

•Justin dances with Brian at his senior prom and is gay-bashed by one of the jocks.
These are all honest and realistic situations that gays often confront. Many of these plots have never been seen before on television; Showtime is to be commended, this is a very good thing. Yes, it's also true that there have been a few sex scenes that bordered on soft porn. But the actors are often seen opening condoms. Which is also a good thing because AIDS was never even mentioned in the British series.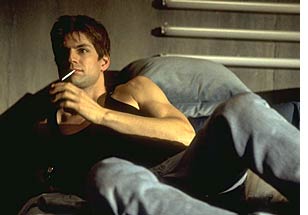 For the most part, I found the series to be terrific. There are, however, two criticisms of the show that I agree with. Babylon, the gay bar featured prominently in the show, is somebody's wet dream. Maybe bars like that exist in New York City and Toronto, but certainly not in Pittsburgh where the show takes place. But since the producers have said themselves that Babylon is a fantasy, I'll let that one go. But I, like many others, do have a problem with the fact that everyone on the show is white. Even all the beautiful boys shaking their booties in Babylon are white. Where are the men and women of color? If they are there in the background, I've missed them. This is extremely unrealistic and the producers should address this shortcoming in the next season.
Other critics have complained that Melanie and Lindsay weren't given enough to do on the show. But in all fairness, they are much bigger characters in the Showtime edition than they were in Britain. QAF isn't perfect but it is compelling and entertaining viewing. Brian's sexual escapades might be a little far-fetched and over-the-top at times but they are usually hilarious. And, let's be honest, sexy as hell too. We've seen straight gigolos in numerous other television soaps (does anyone remember Corbin Bersen having sex with a woman on top of a drop ceiling that collapses on a staff meeting on LA Law?) so what is wrong with having Brian screw any hot guy with a pulse?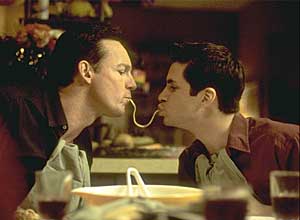 The best thing about the QAF is that none of the characters are angst-ridden over their sexuality. QAF is unapologetic and that is what makes it so groundbreaking. Even by the standards of premium cable channels, QAF pushes the envelope like no gay program ever has before. QAF is Showtime's highest rated original series with gays and straight women being their biggest audience. (Straight men love watching lesbian love scenes, is it possible that straight women get off on watching guys do it?)
I, for one, am looking forward to the second season when it begins airing in January. For those who have missed the show, re-runs begin in August.
Reviewer's Note 2007: Out and gay Canadian playwright, Brad Fraser, joined the writing staff of Queer as Folk in the third season. Though he says, in my 2004 interview with the playwright, that he isn't completely responsible for the dark turn that some of the storylines took in seaeson three, his well-known edgy writing helped keep QAF from getting stale in the later years. Fraser is the author of Unidentified Human Remains And The True Nature Of Love (filmed by Denys Arcand as Love And Human Remains), and Poor Superman (which he directed on film as Leaving Metropolis).
Six Feet Under is a brilliant new original series on HBO. It is a dark-humored look at the funeral industry as seen through the eyes of the extremely dysfunctional family that runs a small family-owned California mortuary. The series will interest gay viewers for two reasons. It is the brainchild of Alan Ball, the out writer of American Beauty, and one of the sons, David Fisher (Michael C. Hall), is a closeted gay man.
David is not the focus of the series, as each family member is given equal time. But his character is being handled in unique and interesting ways. In some respects, his storyline is even more groundbreaking than what Showtime has done with QAF because Six Feet Under is a more mainstream program and not one targeted specifically at a gay audience.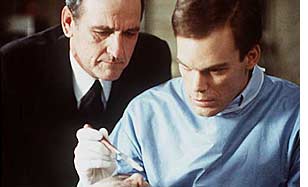 This is a brief description of the show: The father, Nathaniel Fisher, is killed in a car crash on Christmas Eve. Nate, (Peter Krause), is the prodigal son who ran away from the funeral business. Returning home for Christmas, he meets a woman named Brenda (Rachel Griffiths) on the plane. They have sex in a storeroom when his cell phone goes off with the news of Dad's death. Ruth, the mother (Francis Conroy), is an unhappy and frumpy woman who looks like she stepped out of the painting, "American Gothic." At her husband's funeral, she screams that she's a "whore" because she had an affair with a hairdresser. Claire (Lauren Ambrose) is the troubled teen-aged daughter who is high on crystal meth when she receives the news of Dad's death. David is the closeted gay son who gave up his plans to attend law school so that he could follow in his father's footsteps.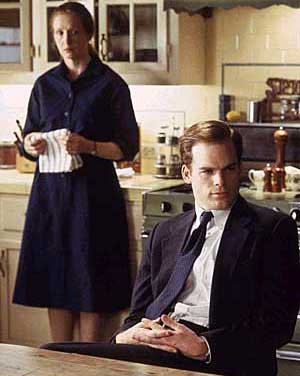 During the course of the seven episodes aired by presstime, the personal stories of the principals have meshed with a scathing satire of the funeral business which includes corporate takeovers, missing body parts, and surreal scenes in which bodies on the embalming table hold conversations with David while he prepares them for viewing.
David's sexuality, like everything else on the show, is announced in a very offhand way. As he is embalming his father, he receives a phone call from an extremely attractive black cop named Keith (Mathew St. Patrick) who tells him not to eat too much at Christmas dinner because he has wine chilling and dessert waiting for him when he comes by later.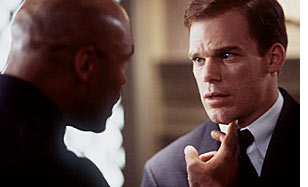 David and Keith's relationship is an uneasy one. (Their troubles, however, pale when compared to brother Nate's difficulties with Brenda.) David is very uptight and believes in keeping his personal life private while Keith is out and proud and keeps trying to get David to come to his gay police and firemen club. When Keith comes to the funeral home to pay his respects, David freaks out and asks him to go. When his mother asks why a policeman is here, David introduces Keith as his "racquetball partner."
Their most interesting storyline thus far centered on a moment when a young punk calls them fags and Keith angrily runs after him, pulls out his badge, and tells the kid that the next time he calls someone queer that he better make sure he's not a cop. David, on the other hand, cowardly refuses to get involved, pissing Keith off in the process. During the course of the episode, David has many conversations with the young Latino gangmember who lays on his embalming table. The deceased man tells David that he has no problem with his being gay but asks him how long he's going to be Keith's "bitch" and when he's going to assert himself and be a man. David listens to the cadaver's advice and stands up to the corporation that is trying to buy their funeral home.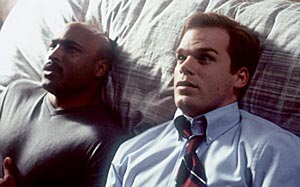 David and Keith met, interestingly enough, in a Unitarian church. For both men, spirituality and religion are very important. But it also becomes their relationship's undoing when David is asked to become a Deacon at his mother's church. Keith is okay with this until David says that he would prefer that Keith doesn't attend services there. This is the last straw for Keith, and he angrily drives off. The irony is that David had just made Keith proud by coming out to his brother moments before.
David is the flip side of the out and proud characters on QAF. This is not a bad thing because David is wrestling with all the issues that most gay men deal with before they come out. David does not hate himself because he is gay, but he is an unhappy man. He has always been the "good son" and done what was expected of him. By doing this he makes everybody else happy but himself. During the last two "post-Keith" episodes, David becomes more involved at the church while, at the same time, becoming more compulsive. He picks up a man at a gay bar and pretends to be from out of town. Meanwhile, he again pleases everyone else but himself when he votes against a new priest at his church because the clergyman wants to stir things up too much.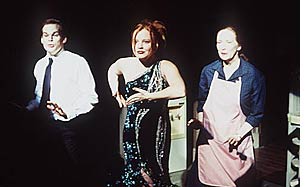 The themes of Six Feet Under are often quite dark but, like Stanley Kubrick's Dr. Strangelove, humor rises from this very darkness. Life's absurdities are vividly captured by the show's writers. Like, for example, when David sits down with a glass of milk to watch porno and is interrupted by a phone call from another church deacon... who asks David if he thinks that the new priest candidate is gay. He also has to fend off the amorous attentions of an annoying woman who likes to attend the funerals of strangers.
Michael C, Hall, who has appeared onstage in Terrence McNally's Corpus Christi, and as the emcee in the new version of Cabaret, underplays the part of David masterfully. He is both comic and conflicted, and utterly compelling. To discuss everything else on the show would require another column. But Six Feet Under may very well be the best written show currently airing on television. The way it looks at death, a taboo theme if there ever was one, is like nothing ever seen before. It is brave and audacious, and not afraid to take risks. In some respects, David's storyline is even more groundbreaking than QAF because this is not a program targeted specifically at a gay audience. Highly recommended.
See also:
Queer As Folk the British series
Queer As Folk Season One (premiere)
Queer As Folk Season Two
Sharon Gless also appears in:
Hannah Free
Francis Conroy also appears in:
Die, Mommie, Die!
Lauren Ambrose also appears in:
In & Out
Justina Machado also appears in:
Pedro