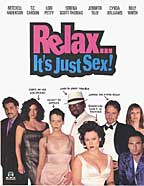 Relax... It's Just Sex
TLA Releasing, 1998
Director/Screenplay:
P.J. Castellaneta
Starring: Mitchell Anderson, Terrence 'T.C.' Carson, Seymour Casse, Lori Petty, Jennifer Tilly, Susan Tyrrell, Cynda Williams, Paul Winfield
Unrated, 110 minutes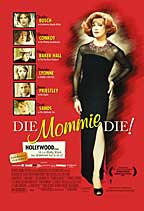 Die, Mommie, Die!
IFC Films, 2003
Director::
Mark Rucker
Screenplay:
Charles Busch,
from his play
Starring: Charles Busch, Jason Priestley. Natasha Lyonne, Frances Conroy, Philip Baker Hall, Stark Sands, Josh Hutchinson
Unrated, 90 minutes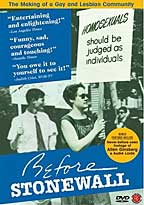 Before Stonewall
First Run Features, 1985

Director::
John Scagliotti,
Greta Schiller
Narrated by:
Rita Mae Brown
Starring: Allen Ginsberg, Barbara Gittings, Audre Lorde, Bruce Nugent, Harry Hay, Ann Bannon, Lisa Ben, Gladys Bentley, George Buse, Barbara Grier, Jim Kepner
Unrated, 97 minutes
Life, Camp and History
by Michael D. Klemm
Reprinted from Outcome, August, 2004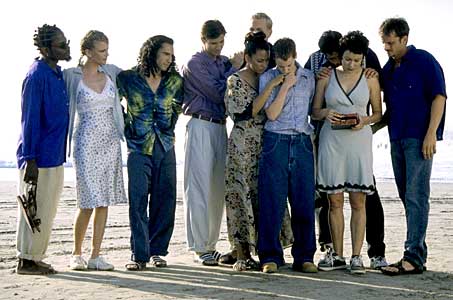 P.J. Castellaneta 's second film, Relax... It's Just Sex is now available on DVD, complete and uncut. (Don't get me started on the butchered R-rated version I once rented.) I reviewed this small gem a few years ago, and it hasn't dated in the least. Click here for the much longer original review.
There is much here to applaud; especially its multi-racial cast. Vincie (Mitchell Anderson) is a writer who is unlucky in love. Tara (Jennifer Tilly) obsesses about having a baby with Gus, her Latino boyfriend. Gus' HIV+ brother, Harvey, has just hooked up with Buzz, an avant-garde black painter. Serena, a young black woman, is on the rebound after Megan, her WASP partner, left her for a man. Serena's new butch paramour, Robin, laments that next to her, "Janet Reno looks feminine." Dwight and Diego make the others sick with their constant affection.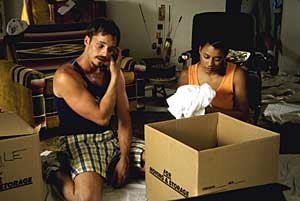 Relax begins with a hilarious black and white 1950s-style sex education film that depicts two "lipstick lesbians" and two "gym queens," while a soothing narrator announces: "See, nothing to be frightened of." Cut to Vincie, in bed with another man, and having an internal crisis as he wonders if he should swallow.
The diverse cast meets life's challenges with humor and wit. Each is a unique individual and not a stock character. Stereotypes are turned upside down. When Megan introduces her new boyfriend, her shocked mother asks "What am I going to tell my friends at PFLAG?" Castellaneta's dialogue is sharp, and he doesn't shy away from controversial subjects. Midway into the film, Vincie, who was gay-bashed in college, is assaulted again. When Vincie fights back, prepare yourself for the most audacious and disturbing scene I have seen in all of queer cinema. This is a film that is not afraid to take risks and challenge its audience... a true rarity.
I've always enjoyed the work of playwright/actor Charles Busch.Locally, BUA has staged Vampires Lesbians of Sodom and Psycho Beach Party are both are campy fun onstage. The film version of Psycho Beach Party nicely balanced stage camp with cinematic parody. Busch's drag creations are legendary and his guest stint on HBO's Oz was one of the show's highlights. His latest film is called Die, Mommie, Die! and it spoofs 1950s/1960s melodramas.
Busch stars as Angela Arden, a faded celebrity who murders her movie producer husband. Jason Priestly is her current boytoy and, before the fat lady can sing, he has also slept with both her daughter and her son. Francis Conroy, as uptight as she is on Six Feet Under, portrays the scheming maid. The preposterous plot could be a second cousin to Valley of the Dolls. Busch's appearance on camera is dazzling; looking like a cross between Joan Crawford and Barbara Stanwyck.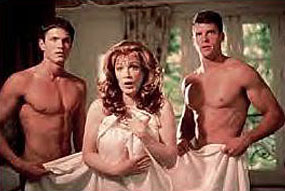 But there is something curiously flat about the movie. The look of old technicolor melodramas is meticulously recreated and Busch has a field day spoofing the genre's hokey dialogue. But the filmmakers' approach is perhaps too restrained. Most of the dialogue is delivered in a monotone and what they all should have done is cut loose more. Film is more subtle than the stage, so naturally there is a need to tone things down so it doesn't resemble a bad Saturday Night Live sketch. But Die, Mommie, Die! needs to pump up the volume; it is actually boring for long stretches and cries for more of a John Waters approach. It has its funny moments but they produced small giggles rather than outright guffaws. There is much to admire, but the filmmakers just didn't find the right comic tone. Charles Busch in drag is not enough to carry an entire film.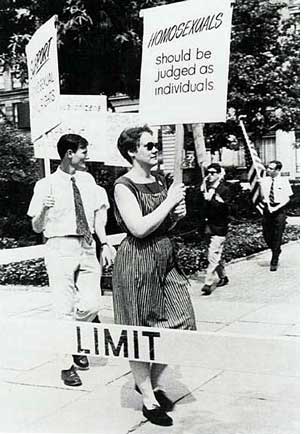 Also new to DVD is a superb 1985 documentary, which originally appeared on PBS, entitled Before Stonewall. Its tone - honest and unapologetic - transcends its years and makes the film seem like it was just made yesterday.
Before Stonewall combines newsreel footage, movie clips, and contemporary interviews to document the history of 20th century gay America on the road to the 1969 Stonewall riots. We see the bohemia of the Prohibition years, radical changes on the homefront during World War II, and a short period of liberalism that was immediately followed by the witch hunts of the McCarthy era. In the 1950s, the Mattachine Society and the Daughters of Bilitis ushered in the gay civil rights movement. Finally, the social upheavals of the 1960, along with the free attitudes of the hippies, propelled many gays out of the closet and into the streets.
Revealing interviews, some horrific, some humorous, illustrate the courage and sacrifices of those who came before us. The HBO version of Vito Russo's The Celluloid Closet owes a great debt to this groundbreaking documentary. Many of the priceless movie clips seen here reappeared ten years later in the HBO film, as does Doris Day singing "Once I Had A Secret Love."
Before Stonewall strikes a perfect balance between the serious and the comedic. But the real meat is interviews with such now-deceased pioneers like Harry Hay, who helped found the Mattachine Society and the Radical Faeries, Beat poet Allen Ginsberg and influential lesbian activist/poet Audre Lorde [See Deveaux Publishes Lorde Biography in last month's Outcome]. Their stories are deeply personal and amazing. My favorite was the woman soldier who told her commander, General Eisenhower, that outing all the lesbians in her platoon will mean putting her own name at the top of the list.
And for those who want more, the supplements on this disc are what DVDs were made for, especially the extended interviews with Audre Lorde and Allen Ginsberg (who reads two homoerotic poems and reveals his sexual liaisons with fellow Beat writer Jack Kerouac). Before Stonewall is not only an essential historical document, but it is first rate entertainment as well.
More On Charles Busch:
Oz
A Very Serious Person
More On Jason Priestly:
Love And Death On Long Island
Common Ground
More On P.J. Castellaneta:
Together/Alone