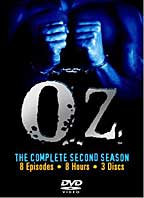 Oz
Season Two
HBO Video, 1998
Created by Tom Fontana
Starring: Terry Kinney, Ernie Hudson, Rita Moreno, Harold Perrineau, Eamonn Walker, .K. Simmons, Lee Tergesen, Chris Meloni, Dean Winter, Edie Falco, B.D. Wong
Unrated, 8 episodes, 467 minutes
Jailhouse Rock
by Michael D. Klemm
Reprinted from Outcome, July, 2003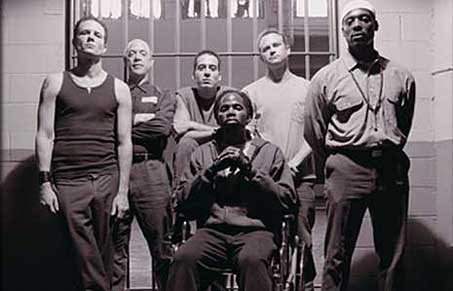 When it comes to depicting three dimensional gay characters on the tube, cable networks like HBO and Showtime blow the broadcast channels out of the water. Oz, HBO's gritty and often-homoerotic prison drama, enjoys a large gay male following . Aside from the copious rough trade and gratuitous nudity, (almost every episode has a shower scene and is good for at least one naked prisoner being thrown into "the hole"), Oz is tightly written, fast paced and riveting.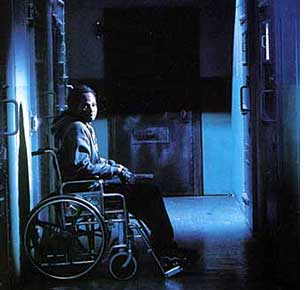 Oz is the ironic name given to Oswald State Penitentiary. Most of the action takes place in Emerald City, an experimental cellblock run by the naive Tim McManus who believes he can rehabilitate the hardened criminals in his care. Good luck, Tim. Bloodshed is their national pastime. Emerald City's factions include mobsters, Muslims, Aryans, even drag queens. Plotlines include inmate backstabbing (literally), dishonest guards, a corrupt governor, and cellblock sexual tension. Oz is Quentin Tarrantino crossed with Jean Genet.
Tobias Beecher is one of the few characters on Oz who actually generates sympathy. Unlike most of the other prisoners, he is not a hardened felon; his crime was vehicular manslaughter. The first season witnessed his transformation from a scared milquetoast to a drug-crazed psychotic, hell-bent on revenge against his arch nemesis: the white supremacist Vern Schillinger (J.K. Simmons) who raped him, burned a swastika into his butt, and made him his bitch.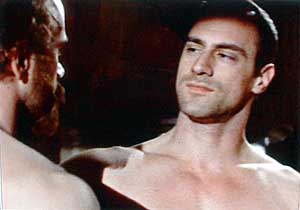 As Season 2 begins, Beecher successfully screws up Schillinger's parole. In retaliation, Schillinger devises the most diabolical plot he can to make Beecher suffer. Enter Chris Keller, a new prisoner assigned to Beecher's cell. There is immediate sexual tension between the two men. Lonely and troubled, Beecher overcomes his initial distrust and falls in love with the handsome, yet dangerous Keller.

Unbeknownst to him, Keller is in cahoots with Schillinger. But appearances are sometimes deceiving. What transpires between them in the season finale is a shocker, yet viewers can look forward to remorse, forgiveness and renewed love between them in Season 3.
Keller is one of the most evil, yet charismatic (and hot!) rogues in screen history. Villians are rarely as complex as this guy. He gets off on making people love him unconditionally and then revels in manipulating them. Hardly a positive gay role model, but Oz does take place in a prison after all. Though both actors are straight, the chemistry between them is electric. Moments where the two men wrestle (see photo montage at left), and later kiss passionately, are amongst the most provocative male love scenes ever filmed. But fasten your seatbelts because their relationship is a very bumpy ride.
Of course the entire season is not just about them. There is wisdom, and often outrageous camp, in the soliloquys given by the series narrator, a wheelchair-bound rastafarian named Augustus Hill (Harold Perrineau). Many of the story arcs are unique, with new definitions of masculinity a recurring theme. For example, the macho strutting Ryan O'Reilly is diagnosed with breast cancer and freaks out because it's "a chick's disease." In another, Peter Schibetta, a young and annoying wannabe Italian gangster tries to usurp the drug trade from the "homeboys." A truly warped but comical comeuppance follows when their leader Simon Adebisi, (imagine Michael Jordan crossed with Arnold Schwarzeneggar), makes short work of Peter and then nonchalantly rapes him while bopping to the music in his headphones. [Note: 2007: Adebisi is played by Lost's Adewale Akinnouye-Agbaje.] Finally, even the drag queeens aren't above stirring up a little trouble themselves.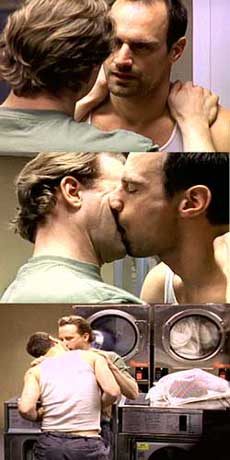 Oz is probably one of the gayest straight programs ever aired. The producers of Oz apparently recognize their gay audience because the off-beat casting features many out actors and Broadway musical icons. B.D. Wong plays the prison chaplain and playwright Charles Busch (Vampire Lesbians of Sodom and Psycho Beach Party) will play a drag queen who smothers a Mafia Don in Season 3. Rita Moreno plays Sister Peter Marie, (there's a gender-bending name!) while Betty Buckley, Patty Lupone and Joel Grey played supporting roles in the final seasons.
The 3-disc DVD set doesn't include as many extras as the first season set, but a roundtable discussion with many of the stars is enlightening. Oz is brutal and over-the-top, and sometimes quite funny, but this is part of its appeal. While not for the squeamish, viewers with a taste for the offbeat will love it. Now, if only HBO will speed up the releases of the remaining seasons.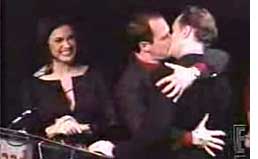 A final note: one year GLADD presented Tergeson and Meloni with an award and they responded with not one, but three sloppy kisses to the audience's delight. (For the last kiss, "Beecher" jumped into "Keller's" arms and wrapped his legs around his back.) Are all the straight actors who always apologize for playing gay paying attention here?
More On Oz:
Oz Season One
More On Charles Busch:
Die, Mommie, Die!
More On J.K. SImmons:
Hit and Runway