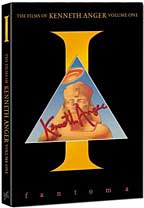 The Films of Kenneth Anger
Volume One
Fantoma Films,
1947-1954
Director/Screenplay:
Kenneth Anger
Unrated, 88 minutes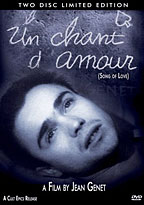 Un Chant D'Amour
Cult Epics, 1950
Director/Screenplay: Jean Genet
Unrated, 25 minutes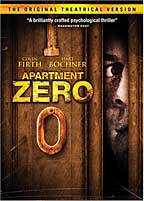 Apartment Zero
Anchor Bay
Entertainment, 1989
Director: Martin Donovan
Screenplay:
Martin Donovan, David Koepp
Starring: Colin Firth, Hart Bochner, Dora Bryan, Liz Smith, Fabrizio Bentivoglio, James Telfer, Mirella D'Angelo, Juan Vitali
Rated R, 124 minutes
More From The Vaults
by Michael D. Klemm
Reprinted from Outcome, May, 2007
The first months of 2007 have been a goldmine for gay film historians. My own personal wish list of films unavailable on DVD has just gotten considerably shorter with these major new releases.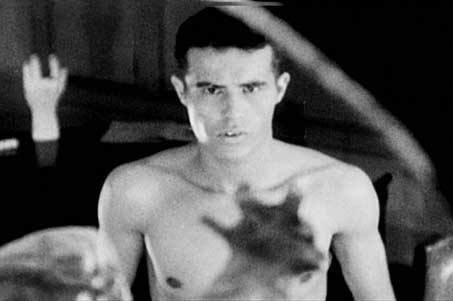 First up is The Films of Kenneth Anger, Volume One. Anger, one of the best known 20th century underground filmmakers, was one of the true pioneers of queer cinema. Also known for penning the definitive book on Tinseltown excess, Hollywood Babylon, he was a child actor in A Midsummer Night's Dream (1935) and one of his films starred a member of the Manson family. His influence can be seen in David Lynch's films and in countless MTV videos. This wonderful collection contains Fireworks (1947), Puce Moment (1949), Rabbit's Moon (1950), Eaux d'artifice (1951) and Inauguration of the Pleasure Dome (1954).
This review will examine the 1947 short, Fireworks, which Anger filmed when he was 17 years old (by some reports, he was really 19). Considering his age, the film is remarkably sophisticated. In the tradition of Luis Bunuel and Salvador Dali's 1929 silent Surrealist short, Un Chien Andalou, and Jean Cocteau's 1930 The Blood of the Poet, Fireworks is the cinematic equivalent of a dream.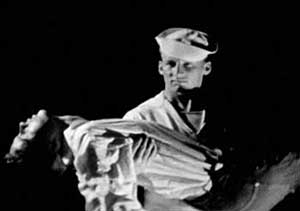 Fireworks opens with a Pieta - a virile sailor carries a young man, played by Anger himself. The young man awakes in his bed. What appears at first to be a (very large) erection under the sheets is playfully revealed to be a totem statue. Shirtless, he strides about the room and then slowly dresses to go out. He cruises a sailor who strips off his shirt and flexes his impressive muscles in extended close-ups. When Anger asks him to light his cigarette, the sailor punches him. Chased by a gang of sailors, he is beaten mercilessly. In a nod to Dali, his chest is ripped open to reveal a ticking clock. A cleansing torrent of milk, obviously meant to represent an orgasmic release, cascades down his bloody face in close-up. Naked, he comes back to life in a public restroom. The virile sailor returns and unbuttons his fly to reveal a roman candle which shoots fireworks in all directions.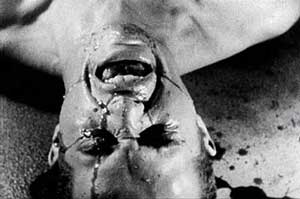 Even today, Fireworks' images are still startling. Just think how closeted gay men reacted to it in 1947! I first saw it almost 30 years ago on PBS when I was just coming out to myself and I felt as if I had just been struck by lightning. Initially shown only at private screenings, and busted more than once for obscenity, its reputation on the underground circuit quickly grew. Two of its first champions were gay director James Whale (The Bride of Frankenstein) and sex researcher Alfred Kinsey, who bought a print of the film for his Institute. Jean Cocteau was impressed enough to invite Anger to Paris, where he would film Rabbit's Moon.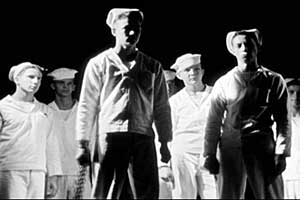 Anger's films aren't for everyone but Fireworks is a must for anyone with an interest in our past. His films are unique, and it will be a pleasure to see a restored print of his homoerotic biker epic Scorpio Rising (1963) when volume two comes out. The DVD is nicely boxed with a 48 page booklet of extensive restoration and historical notes, an introduction by Martin Scorsese, storyboards by Anger, and a lengthy diary excerpt from writer Anais Nin, who appears in Inauguration of the Pleasure Dome. Anger, himself, provides a commentary for each film.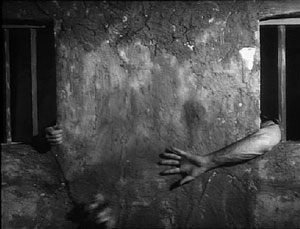 Most of his books were autobiographical fiction populated by prostitutes, thieves and murderers. His novels explode with descriptions of both tenderness and rough sex between men. Our Lady of the Flowers was famously written in prison and Cocteau was instrumental in getting the author pardoned. Sartre was so taken by his work that he wrote Saint Genet, Actor and Martyr. Genet's books, originally printed privately, were published in France in the 1950s but were banned as obscene in the U.S. until the 1960s. They are still heavy reading even today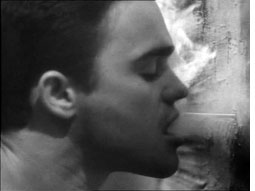 Also the object of many obscenity trials, his short film Un Chant d'Amour is a lyrical yet sexually explicit tome about lonely prisoners in heat. A rugged. 40-ish man rubs against a wall desperate for human contact with the man in the next cell. A younger man hugs the exotic tattoo on his shoulder as he sashays about the room. Through a hole in the wall, they blow cigarette smoke into each other's mouths. A voyeuristic guard, patrolling the corridors, looks through a peephole into each cell and watches several prisoners masturbate. Though plainly aroused by what he sees, he enters the cell of the older man, beats him and forces him to fellate his gun. The prisoner escapes into fantasies where he and the man in the next cell make love in the woods.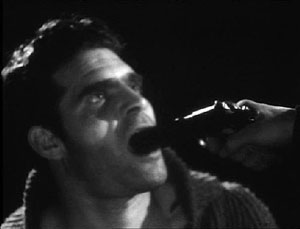 This short description hardly does this remarkable film justice. Like Anger's movie, sexuality explodes into violence but it is also one of the most poetic and sensual films about men loving men ever filmed. Some might call it porn, but you feel the loneliness as the camera lingers, almost lovingly, on these men. They just seem to want some contact. The older man kisses the wall as tears stream down his unshaven face, the younger one hugs himself on his cot, both men open their mouths wide to receive the sensuous smoke through a phallic straw stuck through the small "glory hole." Two hands reach from between the bars of their cell windows and try to touch. These are the images we had to imagine while reading Our Lady of the Flowers. They will resonate again decades later in Fassbinder's film of Genet's Querelle (1982), Todd Hayne's Poison (1992) and even on HBO's Oz .
Regretfully, the print of the film on this disc shows no signs of restoration, but I'm just thankful to finally be able to see this underground classic. The disc also contains a commentary from Kenneth Anger, an introduction by underground film presenter Jonas Mekas (who first smuggled the film into the U.S.), and two interviews with Genet as an old man. One big complaint: Genet's film is only 25 minutes long and all of the interviews could easily have fit with the short film on one disc, instead it's spread across two discs inflating the price for no reason. My special edition of James Cameron's The Abyss has both versions of the long film on one disc!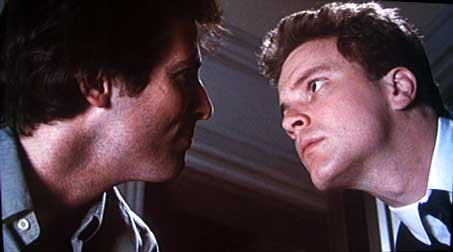 Last but not least is the long awaited DVD release of Martin Donavon's 1989 Apartment Zero. I have written about this film twice before in Outcome so I will not review it fully again. (Click here for the full review). Briefly, it is a terrific thriller about two men who share a Buenos Aires apartment and one of them is a killer. Colin Firth plays Adrian LeDuc, a paranoid closet case who runs an old movie theater and Hart Bochner is his boarder, Jack Carney, who looks - to Adrian - like James Dean come to life. The sexual tension between Adrian and Jack anchors this brilliant character study which blends Roman Polanski with Pedro Almodovar. It would be a crime to say anything more about the plot, except to note that the conclusion is one of the most disturbing in modern cinema.
The disc restores 6 minutes of footage cut for some reason from the VHS release, sports a nice letterboxed transfer and includes a commentary from the director as well as a second by co-writer David Koepp with special guest Steven Soderbergh.
More On Jean Genet:
Querelle