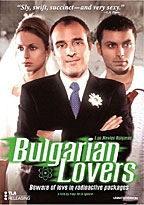 Bulgarian Lovers
TLA Video,
2003
Director:
Eloy De La Iglesia
Screenplay:
Fernando Guillen Cuervo
and
Eloy De La Iglesia
Starring: Fernando Guillen Cuervo,
Dritan Biba, Pepon Nieto, Toger Pera, Anita Sinkovic
Not rated, 92 minutes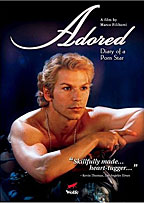 Adored
Wolfe Video, 2003
Screenplay/Director:
Marco Filiberti
Starring: Marco Filiberti, Urbano Barberini, Erica Blanc, Rosalinda Celentano, Francesca Celentano
Not rated, 101 minutes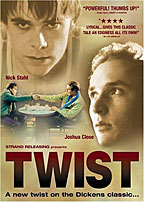 Twist
Strand Releasing, 2003
Screenplay/Director
Jacob Tierney
Starring: Nick Stahl, Gary Farmer, Stephen McHattie, Tygh Runyan, Joshua Close
Rated R, 97 minutes
Postcards From The Edge
by Michael D. Klemm
Reprinted from Outcome, December, 2004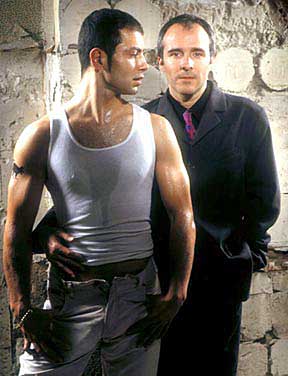 A good decade before Pedro Almodovar explored gay themes in his films, Eloy de la Iglesia made Spain's first openly gay film, Hidden Pleasures, in 1976. As the Franco regime slipped from power, he was the country's first major public figure to declare his homosexuality. His subsequent films often dealt with corruption and sexual politics. Bulgarian Lovers, an adaptation of the novel by Eduardo Mendicutti, is de la Iglesia's first film in over fifteen years.
Against the backdrop of a continent in flux, Daniel (Fernando Guillen Cuervo), a prim and proper middle-aged businessman, enjoys cruising the young Bulgarian immigrants who are living illegally in Madrid. He is smitten by a young stud named Kyril and they share a wild night of sex. Kyril likes Daniel, but he is also an opportunist and knows a "meal ticket" when he sees one. Kyril is upfront with Daniel from the start, revealing a fiance' back in Berlin. However, he doesn't consider their sexual trysts to be "cheating" because they are just "two guys."
Kyril exploits this convenient arrangement, and soon he is dragging his sugar daddy into a life of crime. Daniel fixes Kyril's papers and agrees to keep a mysterious duffel bag hidden, oblivious to his friends' warnings. When Daniel refuses one of Kyril's demands, the young stud coldly takes his things and storms out. After two weeks, Daniel crawls back to his boy toy, begging forgiveness. Their relationship is best summed up when "Daniel says "I would give my life for you" and Kyril replies "I would give your life for me too."
Slowly, Daniel's life unravels into chaos. As a regular Queer as Folk viewer, Daniel reminded me a lot of the nebbish Ted Schmidt. He is such a doormat that one can't help but feel sorry for him, even if your first impulse is to knock some sense into him. Kyril is bad news but Daniel is a man ruled by his penis. As long as there's an occasional roll in the hay, Daniel will do anything for Kryil - he even pays to bring Kyril's fiance' to Madrid so that they can be together.
Bulgarian Lovers is an erotic comedy with dark thriller undertones beneath its veneer. European filmmakers excel at movies like this; similar American movies usually come across as pointless and vapid. A charm exhibits itself without being overly sentimental or cloying. And, as is often the case in European cinema, it is far more daring than its uptight American counterparts. Look for some fairly explicit sex and frequent full frontal nudity. (An R-rated cut is available and this version is probably butchered.) This film is a stylish and fun. It is sexy and smart with an ample dose of politics and culture thrown into the mix. Recommended.
[Reviewer's note, 2007: Sadly, Bulgarian Lovers would be Eloy de la Iglesia's final film. He passed away in 2006.]
Adored is an uneven Italian soap opera about a popular gay porn star and his clueless family. After a long absence, Riki Kandinsky returns home to attend the funeral of his affluent father. His attempts to keep his job secret from his aristocratic relations backfire when his straight-laced brother Federico follows him back to Rome.
There is ample room for farce here, especially when Federico visits Riki on the set of his newest film. Culture shock and conflict give way to reconciliation as the two men put their differences aside. Federico lets his hair down and Riki contemplates for the first time what he is going to do with his life after his looks are gone.
Adored is an apt title as far as its main character is concerned. While Riki is certainly adored by his fans; he is also a Narcissist of the first order. His favorite pastime seems to be admiring his reflection. A life-sized, back-lit, glamour photograph of himself even hangs over his bed. Writer/director Marco Filiberti stars in the film as Riki and there are so many shots celebrating his beauty that charges of "vanity film" might not be unwarranted. But then everything shifts into melodrama when Riki befriends a young boy whose mother is killed in a traffic accident. He unexpectedly bonds with the boy, and all is well until the boy's grandparents discover his occupation.
Those with a taste for Danielle Steele novels might like this film, but this reviewer found it a bit bland. Compared to films like Boogie Nights and The Fluffer, it is almost parochial. Believability is also compromised; Riki and his brother reconcile far too quickly, and the ending, where Riki is suddenly an athlete in the Gay Olympics, was just too far fetched. Enjoyable as a guilty pleasure, but hardly one that will be remembered as a queer classic.
More on Marco Filiberti:
David's Birthday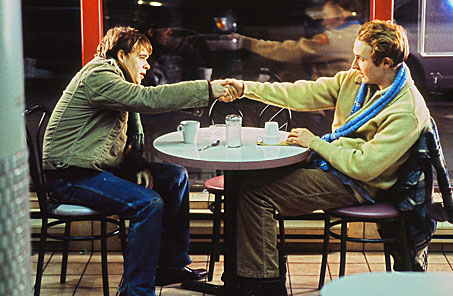 Twist is a modern retelling of Charles Dickens' Oliver Twist, told from the Artful Dodger's viewpoint. Dickens' tragic orphan pickpockets have morphed into street hustlers, but the themes of social reform remain.
Nick Stahl stars as Dodge, a seasoned hustler who takes Oliver, an innocent young lad who has run away from his foster home, under his wing. Oliver moves into a den of hustlers run by the pimp, Fagin, and his unseen master, Billy. Oliver is hungry and desperate for love, but he finds none with the self centered and heroin-addicted Dodge.
Twist is a very bleak film made bearable by some evocative images and the performances of the ensemble cast, especially Stahl. But writer/director Jacob Tierney often ruins climactic moments by inserting some really terrible industrial-sounding folk songs. I've said this before and I'll say it again: leave out the songs and concentrate instead on the drama. Please. Twist was a good idea, but it runs out of steam. Worth a look at least for Stahl's performance.
Gary Farmer also appears in:
Lilies