It's always gratifying to see a superb performance archived for posterity on film. The Night Larry Kramer Kissed Me, now on home video, made its Off-Broadway debut in 1992. David Drake starred in his one-man show for over a year to great acclaim, winning a Best Performance Obie Award in the process. A favorite on the black box theatre set, it was mounted by Buffalo United Artists here in Buffalo for PrideFest back in 1994.
Re-creating his stage-role, Drake takes the audience through a series of monologues, from his sixth birthday (which coincidentally is the date of the Stonewall riots) to his coming out during the early days of the AIDS crisis. Using humor, as well as anger, Drake strips his soul bare onstage. The title's kiss refers to the night he saw Larry Kramer's seminal play The Normal Heart in 1985 when he was 22. The agitprop of Kramer's drama propelled the young Drake to join Act-Up, and some of these experiences are documented in his play.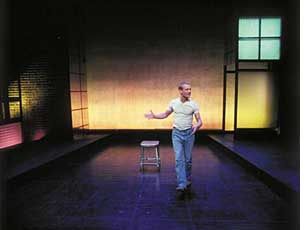 The whimsy of the first episodes dissolve into a series of almost-tribal raps on gyms, gay bars, dating, and protest marches, each punctuated by threats of homophobia from without and within. A candlelit vigil for friends who died of AIDS is the longest and most poignant segment, followed by a hopeful conclusion in which he and his partner celebrate a future New Year's Eve. Here, he reminisces about the great revolution that brought about equal rights, a cure for AIDS, the assassination of Rush Limbaugh, and his experience watching the remake of The Way We Were starring Ben Affleck and Matt Damon.
Drake's performance is electric and commands your attention throughout. Using his voice and expressive body movements that combine elements of dance and mime, not to mention enormous sex appeal, his various characters are alive and vibrant. With the exception of a few cutesy moments (like saying "God bless the Village People" during a childhood prayer), none of the material is empty self-indulgent fluff. A monologue on the tribal rituals of a gym oozes with sex until it climaxes with his buff body doubling as a weapon against gay bashers. "The truth will set you free," Drake declares at the end, "But first it will piss you off."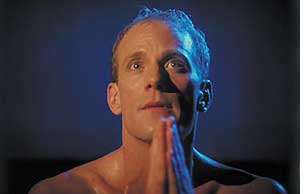 This is not a conventional movie; it is a filmed record of a remarkable performance piece which manages to sustain the same electricity on celluloid that was once generated on stage. The trouble with such films is their often static nature. The best cure for insomnia is a movie where the camera sits in one spot and just captures the actor. This is not the case here; camera movements, editing and lighting effects accent, without overpowering, the spontaneity of Drake's performance.
The Night Larry Kramer Kissed Me was filmed by Tim Kirkman (the director of Dear Jesse, a documentary about everyone's "favorite" homophobic Senator, Jesse Helms). Kirkman wisely avoided the temptation to "open up the space" by setting Drake's monologues in more realistic surroundings. Besides matching the rhythm of Drake's raps to the editing, he also knows when to relax the pace with uninterrupted takes.
Aside from updating a few cultural references for the film version, Drake's original text remains intact. To some, certain elements may seem a bit dated today. Still, a time that needs to be remembered is captured here for future generations. AIDS and homophobia still exist, so there is nothing irrelevant about Drake's ground-breaking performance art.
The supplements on the DVD are just what this medium was created for. TWO alternate versions of the final scene are included, one videotaped in 1990 when the play was still in workshop, and one from its stage run in 1994). Also included is a text history of the play, and an illuminating audio commentary by Drake and Kirkman. This one is a must for queer viewers with a taste beyond the mainstream
More On Tim Kirkman
Loggerheads.
David Drake also appears in:
BearCity
Philadelphia
Longtime Companion

Richard Riehle also appears in:
Choose Connor
The Mostly Unfabulous Social Life of Ethan Green
Mysterious Skin
Bear City 2: The Proposal
David Pevsner also appears in:
Adam & Steve
Pornography: A Thriller
Role/Play
A Portrait of James Dean: Joshua Tree, 1951
Old Dogs & New Tricks