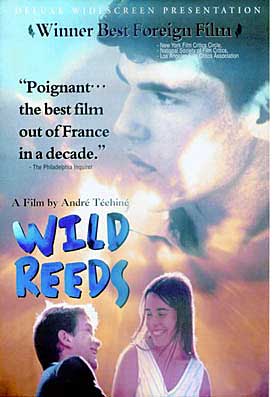 In Andre Techine's Wild Reeds, (1994), the war takes place on another continent but it still affects the lives of all concerned. The bloody conflict in Algiers provides the backdrop for this bittersweet coming of age story about four youths (two straight, one gay, one bi) in 1962 France. Maite is a young teen-aged girl who is both a Communist and a feminist. Her best friend, Francois, is discovering that he has feelings for Serge, a fellow student at his boarding school. Serge lusts for Maite, while Henri - aged 21 and a French-Algerian exchange student - is a free-spirited youth with feelings for all three of them.
To Francois' surprise, Serge seeks out his friendship in order to better his grades. He also says they can help each other get girls because they are both opposites. Francois at first refuses. Then, in a very telling visual moment, Serge shoves some test answers into the front of his trousers. Francois suddenly unbuttons the bottom of Serge's shirt and pulls the answers out of his pants.
Henri walks in on the two boys after they have traded test answers in the lavatory and accuses Francois of fornicating with Serge in the toilet. "I understand," he says, "At your age I was the same way. Why deprive yourself of life's pleasures?" That night, Serge sits down on Francois' bed to inquire if he ever masturbates and then asks if he would like to do it with him. After a few minutes, Francois puts his arm around Serge and the two boys make love. It is one of the gentlest moments of young love and affection ever filmed.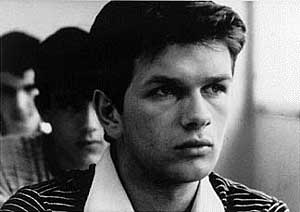 Francois falls in love with Serge, but is disappointed when he discovers that Serge is more interested in his "girlfriend," Maite. He continues to savor every moment that they are together while longing to repeat their one night of passion. One night he looks longingly at Henri's bed. When he reaches to touch his shoulder, Henri awakes and tells him to "go for it." Francois panics and walks into the lavatory. There, he stares at himself in the mirror and declares "I am a faggot" repeatedly until the scene fades to black.
Adolescence with its onset of adult hormones can be the most confusing time in a person's life. The confusion here is compounded by the war in Algiers, which affects all of them in various ways. Maite's mother is a teacher at the boys' school and she refused to help Serge's older brother desert from the army. When he is killed in the war, she suffers a nervous breakdown. His brother's death causes Serge to feel hostile to the orphaned Henri, an Algerian sympathizer. Francois, however, is drawn to Henri, even though the rest of the boys in the school shun him.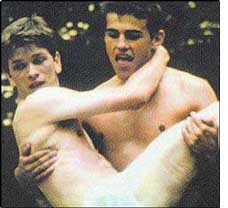 Wild Reeds' main emphasis is the tender and turbulent friendship between Francois and Serge. But it is Maite who remains the emotional center of the film. She is old and wise beyond her years, perhaps because of her mother's political beliefs. She is uninterested in sex, yet thinks of Francois as her boyfriend. When Francois tells her that he slept with a boy, she understands, even though she later calls him an "immature bourgeois faggot."
The film's title comes from The Oak and the Reed, a fable by La Fontaine that is the subject of a classroom lesson. In the fable, the oak tells the reed that "nature did you wrong" and boasts of its strength while the reed insists that it "fear[s] not the wind, I bend without breaking." The tree is uprooted in a storm while the reed remains standing. The main characters can be seen as being reeds themselves, wild and undisciplined, but resilient and able to weather both the political and sexual storms around them.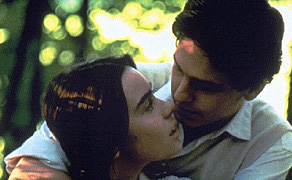 Director Techine's attention to detail in Wild Reeds is marvelous. The story enfolds in a warm and engaging manner and features superbly realized adolescents that would be at home in a film by the great Francois Truffaut. Wild Reeds is easy to watch and enjoy, though some historical knowledge of the Algerian conflict is useful for understanding the characters' motivations. (And I have to admit that my last exposure to the subject was when I saw Pontecorvo's The Battles of Algiers in my college film class almost twenty years ago.)
Each of the principals is a uniquely developed persona brought fully to life by a terrific and natural ensemble of young actors. Unlike many American films that deal with teen-agers, the teachers and adults are also rendered with care, rather than being mere cartoons. To the film's credit, Techine does not try to wrap everything up in a neat and contrived bundle at the end. It is a warm and very likable (and partially autobiographical) tale that can stand with the best of Truffaut and Renoir.
Both films are in French with subtitles and, due to their subject matter, are definitely not Blockbuster fodder. I rented both videos at Rainbow Pride located inside Buddies at 31 Johnson Park.
More On Andre Techine:
The Witnesses
More On Gael Morel and Stephane Rideau:
Three Dancing Slaves
More On Stephane Rideau:
Come Undone