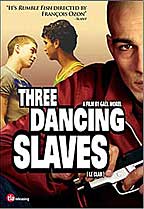 Three Dancing Slaves
(Le Clan)
TLA Releasing
2004
Director:
Gael Morel
Screenplay:
Gael Morel and Christophe Honore
Starring:
Nicolas Cazale, Stephane Rideau, Thomas Dumerchez, Salim Kechiouche
Unrated, 90 minutes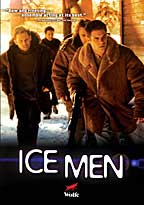 Ice Men
Wolfe Video, 2005
Director: Thom Best
Screenplay:
Michael Lewis MacLennan
Starring: Martin Cummins, David Hewlett, Greg Spottiswood, James
Thomas, Ian Tracey
Unrated, 108 minutes
Male Bonding
by Michael D. Klemm
Reprinted from Outcome, March, 2006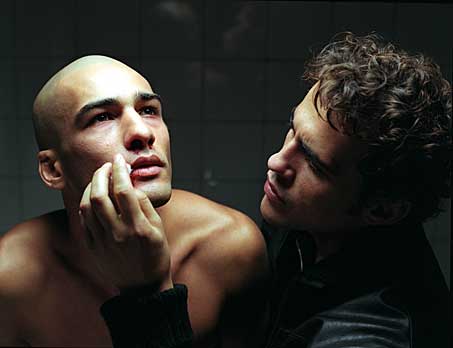 European cinema often travels the roads where American films fear to tread. Submitted for your approval is Three Dancing Slaves, a new film by French actor-turned-auteur Gael Morel. While not a household name in the States, he starred opposite Stephane Rideau in Wild Reeds, Andre Techine's 1994 gay coming-of-age classic set against the French-Algerian conflict, before turning his gaze behind the camera.
Three Dancing Slaves explores the lives of three brothers, half-French and half-Algerian, who reside in a small town on the Swiss border near the French Alps. Marc (Nicolas Cazale) is a small-time wannabe hood who loves his brothers and his dog. His taste for illicit drugs lands him in hot water with the local dealers. The eldest brother, Christophe (Stephane Rideau), has just been released from prison and is trying to go straight. The youngest, Olivier (Thomas Dumerchez), is still dealing with their mother's death and spends a lot of time talking to her ashes. He falls in love with Marc's Arab friend, Hichon, who is teaching him the athletic slave dance, Capoeira. The trio deals with an ineffectual yet overbearing father while trying to find the same solace in each other that they enjoyed as boys.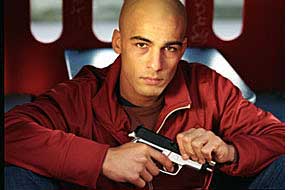 This is a film about brotherly love and male bonding like you've never seen before. Many film critics have discussed the underlying homoeroticism in Buddy Films and Westerns. As Vito Russo wrote in The Celluloid Closet: who remembers Katherine Ross in Butch Cassidy and the Sundance Kid? This is a hot topic again due to the recent success of Brokeback Mountain. Three Dancing Slaves takes these themes to unprecedented levels. Most of the film celebrates male camaraderie, and the homoeroticism is up front and center where no one could possibly miss it.
The constant horseplay of Marc and his friends is infused with a sexual charge. When we first glimpse them they are killing time by shaving each other's heads. A gym workout is almost an orgy. During one jolting scene, Marc has sex with a pre-op transsexual hooker while his friends masturbate in the other room to a porn video. Later, he is seen shaving his head, his face, his chest, and then clipping his pubic hair in a full length nude shot (when's the last time you saw Vin Diesel do either of those things onscreen?) I haven't seen this much male eroticism in a supposedly butch setting since another well-known French film - set in the Foreign Legion - called Beau Travail.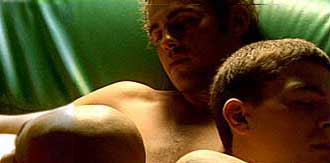 Sexuality is no mere subtext here, it is the driving force behind the film and director Morel has outdone Bertolucci with his loving images. Look for the moment, pastoral in its innocence, where the three brothers all lay nude and intertwined, sleeping peacefully in the same bed. This is not incest; they simply connect in ways that defy convention. Such images, rather than words, make it easier to understand why these three young men tolerate each other despite the drama each brings to the mix.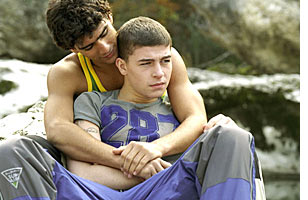 Though beautifully filmed and acted, this is nonetheless a very unconventional movie. The fractured narrative demands the viewer's full attention. There are three acts, each titled after a different brother and a different season. Gaps in the storyline are often left unexplained; one gets lost in their aimless lives and I think this was the point. Three Dancing Slaves is hypnotic, like a dream. Occasionally the dream erupts into nightmare - the fate of Marc's beloved dog will haunt me forever, There is heartbreak and there is euphoria. For joy, look to Olivier and Hichon, wildly in love, as the two young men go windsailing against a backdrop of the Alps.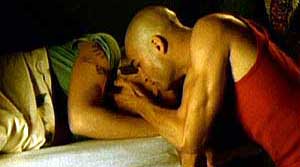 Is it prurient and self-indulgent or is it art? I'll be the first to admit that this film isn't for everyone. Even with all its carnal energy, it requires patience - or at least the willingness to just go with the film's flow. Think of it as taking a European vacation; one to be savored. Go take a walk on the wild side.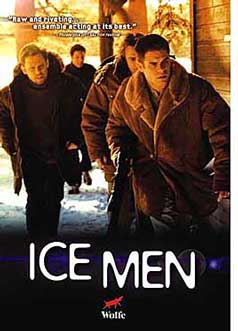 Ice Men, a film by Queer as Folk director Thom Best, also examines male bonding. I thought that it failed as a drama but on a second viewing I realized that it must be a comedy, or more accurately, a satire, spoofing silly hetero male rituals in the most obvious of settings: a snowy weekend in a cabin.
The host is Vaughn, a macho but anal Felix Unger type who makes everyone remove their wet shoes and provides knitted booties for their cold feet. Amongst the guests are John, a closeted gay man, and Steve, a hunky gym instructor whom John pines after. When the two men share a bed, John finally gets his wish - with predictable results ("We were drunk last night!"). This only adds to the already tense vibes caused by the unexpected arrival of Vaughn's estranged brother. Secrets are told, betrayals are made, and there's horseplay in an outdoor hot tub.