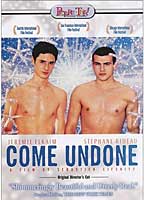 Come Undone
(Presque Rien)
PictureThis! Entertainment, 2000
Director:
Sebastien Lifshitz
Screenplay:
Sebastien Lifshitz,
Stephane Bouquet
Starring: Jeremie Elkaim, Stephane Rideau, Dominique Reymond, Marie Matheron, Laetitia Legrix, Nils Ohlund
Unrated, 98 minutes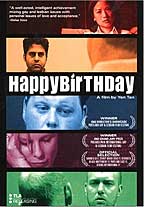 Happy Birthday
TLA Releasing,
2002
Director/Screenplay:
Yen Tan
Starring:
Benjamin Patrick, Michelle E. Michael, John Frazier, Devashish Saxena, Ethel Lung, Denton Everett, Xiao Fei Zhao, Derik Webb, Lynn Chambers, Chip Gilliam, Natalie Thrash, Debbie Rey, Kathleen Cole
Unrated, 94 minutes
Seasons of Love
by Michael D. Klemm
Reprinted from Outcome, February, 2004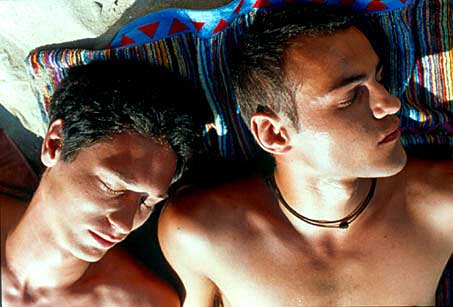 Romantic tales about first love have been a mainstay at the movies since the beginning. Here, for a change, is one that isn't sappy or sentimental. In Come Undone, eighteen-year old Mathieu (Jeremie Elkaim) is vacationing at the seaside with his family when he feels the eyes of a stranger, local teen Cedric (Stephane Rideau), from across the dunes. The two meet cute and fall in love. Their trysts are filled with hot kisses, skinny dipping and passionate sex on the beach.
But this French romance has quite an edge to it. The idyllic beach scenes are flashbacks. A year has passed and Mathieu has tried to commit suicide and is recuperating in a hospital. He then returns to his family's summer home to sort out his feelings. Come Undone is told in a non-linear style, and those who demand a plot with a defined beginning, middle and end might find it maddening. This is not The Summer of 42, dripping with nostalgia; director/writer Sebastien Lifshitz aims for something much more.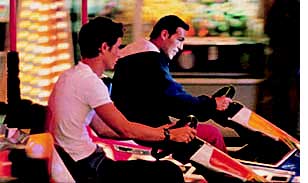 Despite their obvious passion for each other, Mathieu knows little about Cedric and vice-versa. Mathieu was unaware that he was gay until their fateful meeting, while Cedric has been out since his early teens. Cedric, we learn, was once a hustler and Mathieu has emotional problems. His depressed mother is ill, and his overbearing aunt rules the household. Throw into this mix his self-realization and coming out issues, and you have a young man who is a ticking timebomb.
Straight forward love stories are a dime-a-dozen; Lifshitz concentrates instead on character, conflict, and internal states. Muted photography in the present day scenes alternate with sun-drenched beach memories. It is never made clear what happened between Mathieu and Cedric, or why Mathieu tried to take his life. But mysteries of the heart can sometimes never be explained and the viewer is forced to fill in the blanks, making this the most cerebral coming of age film in my memory.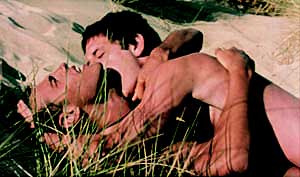 This doesn't mean that Come Undone isn't filled with eye candy and amour. And, like many European films, this one isn't afraid to show our young lads having sex. In fact, it's quite explicit in this regard. The two young leads are attractive and their chemistry together is authentic. Aficionados of gay cinema might recognize Stephane Rideau from the French classic, Wild Reeds, where he played a similar role. Come Undone balances joy with tragedy, and captures the ecstasy and confusion of first love without resorting to melodrama. It is beautifully filmed and acted, and transcends what is often a very puerile genre.
Happy Birthday is proof that you don't need a mega-budget and stars to make a compelling movie. This ensemble piece by writer/director Yen Tan expertly intertwines the stories of five different gay men and women who share the same birthday.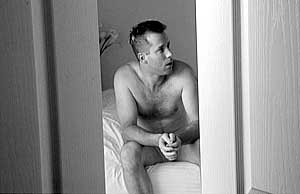 Jim is an overweight man who works as a diet pill telemarketer and is insecure about his own obesity. Ron is a hypocrite; an ex-gay minister who secretly watches gay porn at night. Kelly, who has broken up with her partner, receives a call from the straight college friend whom she once loved. Tracy is a Taiwanese lesbian who plays straight when her mother comes to visit. Javed is a Pakistani immigrant whose life could be in danger if he is deported. His lover, Greg, works in porn films to pay Javed's legal bills. Each experiences a life transforming epiphany.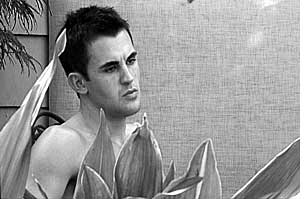 Their tales are compelling and could have sustained five feature films. Instead, Yen Tan offers them as lean slices of life with all the extraneous fat removed. But this cinematic shorthand doesn't compromise the drama. Each is given equal emphasis and, like a Robert Altman film, the different stories seamlessly flow into one another. Fully discussing each episode would triple the length of this review. Besides, these are quiet chamber narratives and it is best to let viewers experience the small plot nuances themselves.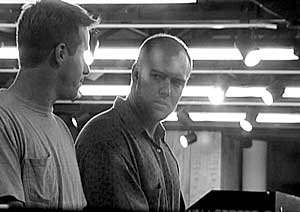 Filmed in black & white, Happy Birthday is almost a documentary where the audience is able to peer into the most intimate details of these characters' lives. The use of unknown actors further heightens the reality, as does the refreshing racial mix in the cast. Though this is an American film, it feels very European. The photography is exquisite, evoking Bergman's painterly compositions with the camera often shooting down hallways at characters framed in doorways. This is balanced by tight close-ups where the actors' faces are virtual roadmaps of emotion. The minimalist piano score underscores the action without overpowering it.
Happy Birthday is a hearty stew of raw conflict and by its conclusion the audience has certainly had a meal. I was greatly moved and this small gem is highly recommended.
More On Stephane Rideau:
Wild Reeds
Three Dancing Slaves