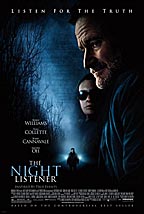 The Night Listener
Miramax Films, 2006
Director: Patrick Stettner
Screenplay: Armistead Maupin, Terry Anderson, Patrick Stettner
Starring: Robin Williams, Toni Collette, Bobby Cannavale, Sandra Oh, Joe Morton, Rory Culkin
Rated R, 81 minutes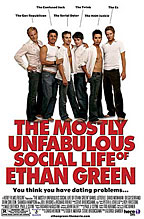 The Mostly Unfabulous Social Life of Ethan Green
Here! Films, 2005
Director: George Bamber Screenplay: David Vernon
Starring: David Latterle, Meridith Baxter, Richard Riehle, Joel Brooks, David Monahan, Scott Atkinson, Diego Serrano
Rated R, 88 minutes
Darkness and Light
by Michael D. Klemm
Reprinted from Outcome, March, 2007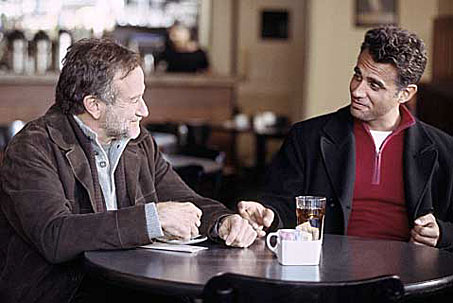 The Night Listener is a subtle thriller that messes with your head. Co-written by Armistead Maupin (Tales Of The City), and based on his acclaimed novel, the result is an off-kilter tale that asks more questions than it can ever possibly answer.
Robin Williams plays Gabriel Noone, a late night radio host who mines the "shiny stuff" of his life, "disregards the rest," and turns them into heartwarming stories for his listeners. Gabriel is in a funk. His younger lover Jess (Bobby Cannavale) has just moved out, claiming that he needs more space. Gabriel tells everyone that it's "temporary" but Jess hit the road because he feels that their relationship has only been fodder for the radio show and that Gabriel can no longer delineate his idealized fiction from the truth anymore.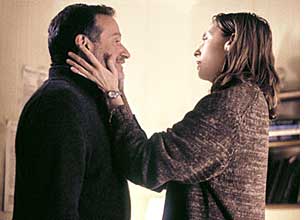 A colleague gives Gabriel an unpublished manuscript to read. It is the memoir of a 14 year old boy with AIDS who suffered horrific ritual sexual abuse as a child. The boy, Pete, telephones Gabriel and they strike up a very touching phone friendship. Gabriel also speaks often with the boy's adoptive mother, Donna. He develops a fatherly affection towards the boy, finding new meaning in his life in the process.
Until one afternoon when Jess comes over to fix the fusebox and remarks that Pete's voice sounds eerily similar to Donna's on the answering machine. The earth falls out from under Gabriel's feet at the suggestion that Donna could be pretending to be her own son and that Pete might be imaginary.
Asking around, Gabriel discovers that no one has ever actually seen the boy. Obsessed with knowing the truth, he travels to their hometown and meets Donna. Tough, resilient and protective, Donna is also blind and she seems a bit... off. We're not talking Kathy Bates in Misery, but she seems peculiar. Of course Pete is conveniently in the hospital so that his existance can't be confirmed, and Donna won't tell Gabriel which one he was admitted to.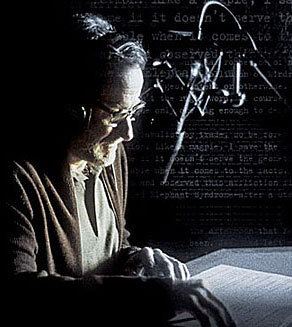 Maupin based his tale on events that actually happened to him, channeling a little Hitchcock in the process. But this is more Vertigo than Psycho. In lesser hands, this could have turned into Fatal Attraction. To its credit, it eschews violence and gratuitous shocks to craft a thinking person's thriller. Here is a film that respects its audience. Nothing yet everything happens. This is a very subtle and captivating character study anchored by two stunning performances from both Williams and Toni Collette as the enigmatic Donna.
My former colleague Michael Calleri once wrote that Robin Williams gives his best performances when he wears a beard. Films like The Fisher King, Awakenings, Good Will Hunting and this one seem to bear out that theory. This is not the manic, wise-cracking Williams; when he is given the right role he can be the subtlest of actors. Those worrying about Williams playing a gay man as an over-the-top queen can relax. And Collette is a virtual chameleon as Donna.
This is one of those films where the less that is said about it the better; the audience should discover it on their own. It runs a lean 81 minutes while still conjuring atmosphere and mood. I was never for a minute bored, and I had no clue where the story was going. Those who need a big payoff at the end will be disappointed by The Night Listener, this will appeal more to admirers of subtlety and ambiguity in works like Henry James' The Turn Of The Screw. This isn't Vertigo, but it's at least a third cousin.
On a (much) lighter note is The Mostly Unfabulous Social Life of Ethan Green, based on Eric Orne's goofy and sometimes surreal comic strip which ran in many gay newspapers, including Outcome, for years.
The opening titles announce that "Ethan is a man unlucky in love. Don't feel sorry for him, it's his own damn fault." Ethan, played by Daniel Letterle (the "straight" boy from Camp) is such an idiot when it comes to relationships that you might want to smack him upside the head. But he's so dorky and cute that you just want to cuddle him.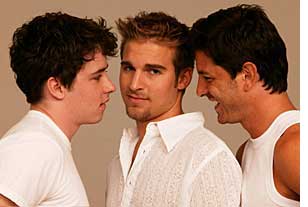 Most films based on episodic comics have trouble sustaining a narrative that conforms to standard movie storytelling and this one is no different. This is a series of connected sketches of varying quality anchored by Ethan's inability to let go of his ex, Leo, and his attempt to sabotage the sale of the house they owned together. The funniest scenes involve a mentally ill realtor who scares away every potential buyer. Ethan dates a hot Hispanic baseball player who is divorcing his wife, and also a 19 year old real estate agent. His mother, played by Meredith Baxter, loves her gay son and drops in as an overused deus ex machina to save the day every time that things go awry.
The film is worth seeing, if for no other reason, to see the Hat Sisters, two of the comic strip's most memorable supporting characters. They are played by Richard Riehle and Joel Brooks, two fine actors you will recognize from countless films and television shows even if you don't know their names. They are middle aged, mustached men who wear matching dresses and floppy hats. They live to dispense advice and cause political mischief. When we first see them they are at a book reading for the sole purpose of heckling the sanctimonious gay Republican who is hawking his new book, The Gay Man's Guide To Loving George Bush. As he begins to speak, the Hat Sisters open their large purses and pass out assorted whistles, cowbells, noisemakers and foghorns to the audience.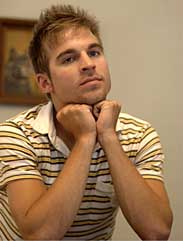 Most interesting to this reviewer was the comic strip's history that is included amongst the DVD's extras (don't bother with the commentary). The film itself is a mixed bag where brilliant comedy coexists with scenes on the level of a high school play, but the charming cast makes the best of even its worst moments. Ethan could butch it up a bit more at times but it was nice to see a cute young twink with some hair on his chest for a change. The ending is terrible but a good chunk of Ethan Green, especially its first half, is quite funny and would fit the bill as a popcorn or date movie.
More On Daniel Letterle:
Camp
Richard Riehle also appears in:
Choose Connor
Mysterious Skin
The Fluffer
Bear City 2: The Proposal
Joel Brooks also appears in:
Six Feet Under