One thing that Showtime knows how to do right is gay drama. The first three seasons of Queer as Folk were groundbreaking, as was their film about Private Barry Winchell's murder, Soldier's Girl. Now, Showtime has one for the ladies. It's called The L Word and it is terrific.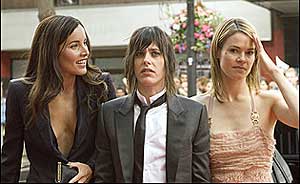 The L Word features a group of lesbian friends and the camaraderie between them. Bette and Tina, together for seven years, are expecting a baby. Their friends are the flirtatious Shane, a closeted tennis player named Dana, a bisexual journalist named Alice, Bette's half-sister Kit, and Marina, who runs the coffee shop they frequent each morning.
Jenny and Tim are the straight couple who live next door to Bette and Tina. Jenny is a gifted writer, hungry for experience, and she connects, on a literary level, with the glamorous Marina and then has an affair with her.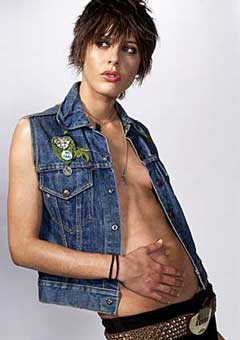 Some storylines may be familiar to longtime gay filmgoers but The L Word is, like QAF, compelling television with great characters and sustained story arcs. While nowhere near as explicit and over-the-top as QAF can get, it is still very sexy and daring. A great stable of talent has been assembled, including noted lesbian director Rose Troche (Go Fish and Bedrooms & Hallways). She is one of the producers and she has directed, and written, several episodes. Laurel Holloman, who plays Tina, appeared in the excellent The Incredible True Story of Two Girls in Love. Jennifer Beals and Pam Grier are the two biggest "names" to appear.
Yes, all of the women are beautiful and they have great careers, but that criticism rarely gets thrown at Sex and the City. As with QAF, straight viewers get a glimpse of the other side and maybe become more enlightened in the process. The pregnancy, starting with the search for a sperm donor, has been well handled so far, (even though I once wrote that I never wanted to see the dreaded turkey baster storyline ever again, this one has a fresh spin on it).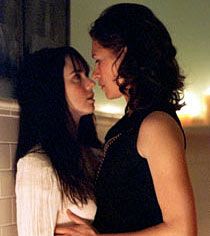 Bette is a career woman who is finding it hard to balance her job with the pre-natal needs of her partner. Dana has embarked on a wonderful relationship only to have to hide it at the orders of her agent because she is "not a superstar like Martina" yet on the tennis courts. Alice has a chart on her wall that links everyone's sex life. And, of course, we have Jenny who is torn between her fiance Tim and the exotic lesbian who she has far more in common with.
At press time, we were at the midpoint of the first season and so far the show has not disappointed. And - two weeks ago - there was a coincidental and very timely plot development. Reminiscent of Britney Speers' recent shenanigans, viewers were treated to Tim and Jenny's rushed wedding in an all-night chapel only to see Tim walk out a few hours later. Here is yet another example of how we gay people are not the ones who are making a mockery of "the sacred institution of marriage." I hope all of America was watching.
More On Rose Troce:
Go Fish
Bedrooms & Hallways
More On Laurel Holloman:
The Incredible True Story of Two Girls in Love
More On Daniel Letterle:
The Mostly Unfabulous Social Life of Ethan Green
More on Erin Daniels:
A Portrait of James Dean: Joshua Tree, 1951