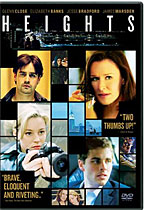 Heights
Sony Pictures,
2005
Director:
Chris Terrio
Screenplay:
Amy Fox
Starring:
Glenn Close,
Elizabeth Banks,
James Marsden,
Jesse Bradford,
John Light, George Segal, Eric Bogosian, Rufus Wainwright
Rated R, 98 minutes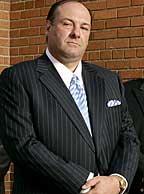 The Sopranos,
Season Six
Part 1
Currently airing on HBO at presstime, 2006
Created by:
David Chase
Starring:
James Gandolfini, Edie Falco, Lorraine Bracco, Michael Imperioli, Dominic Chianese, Tony Sirico, Steven Van Zandt
Unrated, 12 one hour episodes
Scenes From New York and New Jersey
by Michael D. Klemm
Reprinted from Outcome, June, 2006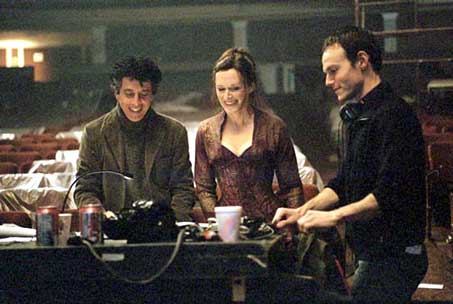 The late Vito Russo once wrote in The Celluloid Closet that he longed for a day when films wouldn't be about homosexuality and that, instead, there would just be characters who were simply gay and part of the cast. It's too bad that he didn't live to see his dream fulfilled; he probably would have loved Heights, a Merchant Ivory production featuring a wide array of characters, gay and straight, who populate the Manhattan theatre and art scene.
Glenn Close stars as Diana Lee, toast of the Broadway stage and currently starring as Lady Macbeth in "the Scottish play." It is her birthday; her husband is having an affair with the actress playing Lady Macduff and she is attracted to a young actor named Alec (Jesse Brewer) who has just nervously auditioned for her. Alec, a neophyte trying to escape the small-time Fringe Festival, is awed by the veteran actress and afraid that she wants to sleep with him. He leaves his jacket behind at a rehearsal and Diana retrieves it because he lives in the same apartment building as her daughter Isabel (Elizabeth Banks).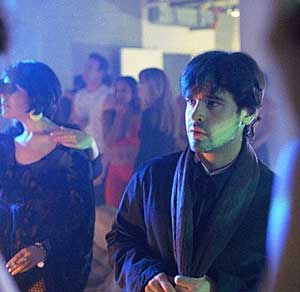 Isabel is a photographer who is tired of shooting weddings and is often at odds with Diana over her fiance' Jonathan (James Marsden). Jonathan is a moody lawyer on the verge of panic. Years ago, he posed naked for Benjamin Stone, a famous - and gay - photographer notorious for sleeping with all of his models. He receives a phone call from Benjamin's current lover Peter, a British journalist who is interviewing the photographer's previous models in conjunction with a major retrospective of his work at the MOMA. How will Isabel and Diana react when they see his nude portrait in the exhibit? Can Jonathan prevent its showing in time?
Juggling multiple storylines, Heights crosses the best of Robert Altman and Woody Allen into a very pleasing stew. It is a story about love, passion, infidelity, betrayal and secrets. The secret can be as small as the pack of cigarettes Jonathan conceals from Isabel; everybody has something to hide and everyone confronts temptation during the course of the day. Heights is one of those films where the less that is said about the rest of the plot the better. It unfolds naturally and diverges onto roads unexpected. While the audience waits for Joanathan's secret to be discovered, there are myriad surprises along the way. Heights is anything but predictable and its ending is a delight.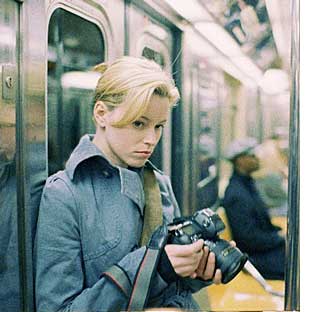 Theatregoers will love the backstage intrigues and GLBT audiences will love the way that Heights integrates the gay characters into the film's rich tapestry. As Jonathan dodges Peter's calls, Peter is busy interviewing Benjamin's past models and learning more about his lover than he wants to know. Out singer Rufus Wainwright is a hoot in his film debut as one of Benjamin's jilted lovers and Eric Bogosian is charming as a gay stage manager.
Each character is fully drawn and not a cardboard cutout. Amy Fox's script, adapted from her play, is a marvel of nuance. There is high drama and there is sublime comedy. Add this one to the list of great gay films from 2005.
BREAKING NEWS ON THE SOPRANOS
There has been an unexpected but disturbing storyline on HBO's The Sopranos this year and this reviewer is having a very complicated reaction to it. Oddly - as we go to press - I haven't seen any reporting on it in the gay media. A warning to readers who don't get HBO and might rent the DVD someday: MAJOR SPOILERS AHEAD...
Mobster Tony Soprano has a problem with one of his captains this season - Vito Spatafore was seen dancing in a gay bar (and dressed in leather to boot) and everyone on Tony's team wants the man whacked. One of Tony's rivals, Phil Leotardo, is Vito's cousin by marriage and he wants the "finook" dead for "dishonoring" his cousin and "bringing disgrace" to his family. If Tony doesn't take Vito out, Phil will do the deed himself.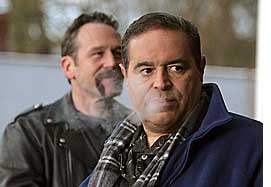 Vito flees New Jersey and hides out in a small New Hampshire town where he is allowed, for two episodes, a romance with a butch fireman, who also runs the local diner. But he stupidly gives up what could have been bliss to return to the fast life of crime. Tony seems willing to give him a pass but his crew insists that Vito has to go or there will be war with Phil's family. Then Tony gets a reprieve; Phil finds Vito first. Even though some of the more explicit moments - namely a pool cue rammed up his rectum - occurs off camera, this is still the most violent gay bashing I have ever seen on television.
I want to believe that we haven't flashed back to the 1970s and I really hope that the writers were addressing homophobia in the mob, but I have a few reservations. The verbal fag bashing throughout Vito's story arc was intolerable. When Tony and his crew first hears about Vito, the scene explodes into a bacchanal of bigotry... one ethnic epithet for fag after another until I almost turned the television off. Tony's crew is known for their rude verbal gymnastics, but there is such a thing as overkill. Was it homophobic writing or was it exposing how heinous the Sopranos really are? After all, one expects the "N" word in film about racists.
In the past, the colorful metaphors spouted by Tony and his men were often funny. This time the comments were downright ugly and it wasn't funny. The Sopranos has a history of presenting characters whose behavior caused them to get whacked at the end of previous seasons. The audience always knew it was coming and, depending on the character, sometimes even looked forward to it. Who could forget that hilarious scene when Tony's sister shot Ritchie Aprile, and saved her brother the trouble? But this is the first time a mobster on The Sopranos was whacked simply for being gay and this made for some uncomfortable viewing.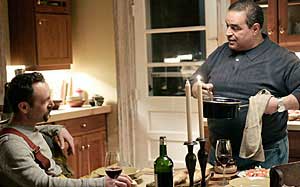 A deliberate ploy from the writers to remind us what low-lifes they are? Perhaps. There were times when I hated this story arc but I want to believe that that the filmmakers weren't glorifying a gay bashing. If that was true, we wouldn't have had that idyllic picnic scene between Vito and the fireman. That was a first for The Sopranos... seeing two men in bed and kissing. Usually we're looking at gratuitous boobs in the Ba-Da Bing Club. Stereotypes were challenged; these were "real" men and not hairdressers, and members of the viewing audience who would never watch Brokeback Mountain might just start questioning their preconceived notions about gay men.
On one hand I applaud the storyline, on the other I think they could have eased up a bit on the fag jokes which were over-the-top and forced - as a lot of the dialogue throughout this season has been to tell the truth. I should mention that there was an odd coda after Vito was whacked. Tony is glad that he didn't have to do it himself. But he looks remorseful, and confides to Silvio that Phil just "disrespected" him by killing one his captains. Then, when one of Vito's assassins makes too many jokes about the killing, Silvio and Carlo snap and brutally stab the man to death; in essence they just bashed the gay basher. At press time the final episode hasn't been aired but I have a feeling that the long-brewing tensions between Tony and Phil are going to explode into all-out war and, regardless of other issues involved, the catalyst will be the killing of a queer. Interesting.
Glenn Close also appears in:
The Stepford Wives
In & Out
George Segal also appears in:
It's My Party
James Marsden also appears in:
The 24th Day
Denis O'Hare also appears in:
An Englishman In New York
Milk
The Normal Heart
Jim Parsons also appears in:
The Normal Heart