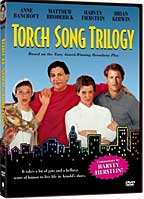 Torch Song Trilogy
Columbia, 1988
Director::
Paul Bogart
Screenplay:
Harvey Fierstein
from his play
Starring:
Anne Bancroft, Matthew Broderick, Harvey Fierstein, Brian Kerwin, Karen Young, Eddie Castrodad, Ken Page, Charles Pierce
Rated R, 120 minutes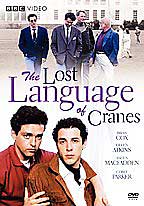 The Lost Language of Cranes
BBC Video, 1991
Director::
Nigel Finch
Screenplay:
Sean Mathias,
based on the novel
by David Leavitt
Starring:
Brian Cox, Eileen Atkins, Angus Macfadyen, Corey Parker, Rene Auberjonois, John Schlesinger, Cathy Tyson, Richard Warwick
Unrated, 87 minutes
Family Values
by Michael D. Klemm
Reprinted from Outcome, December, 1998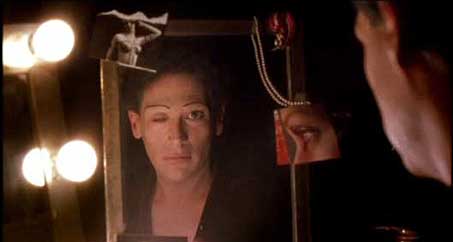 Stories about how gay men and women relate to their families and to the world are a common theme in queer cinema. In a perfect world, being gay should not be an issue but we all know that it is often otherwise. Torch Song Trilogy and The Lost Language of Cranes, though both very different stories, explore these issues admirably in both humorous and dramatic ways.
[Note, 2007: MAJOR SPOILERS AHEAD. When I originally wrote this, the film was already 10 years old, and I assumed that most of my readers had seen it.]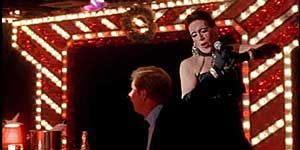 Arnold Beckoff just wants to be loved and respected. It is his equal traits of defiance and pathos that make Harvey Fierstein's character so endearing both on stage and on film. Torch Song Trilogy (1988) was originally three one act plays (The International Stud, Fugue in a Nursery and Widows and Children First) that were eventually combined under one title. Because the first drama was written in 1978, the story is blissfully free of any references to AIDS.
The film begins as Arnold (Fierstein), an unhappy female impersonator, speaks to the audience while putting on makeup for the show. He falls in love with Ed, (Brian Kerwin, who also played the role onstage), a sexually confused young man who eventually leaves Arnold for a woman named Laurel. Later, Arnold meets Alan, (Matthew Broderick), a much younger man, and they move in together. They are genuinely in love, and plan to adopt. When a 15 year old gay boy named David is placed with them, they move to a bigger apartment. On the night they move in, Alan is beated up and killed by fag bashers on the street.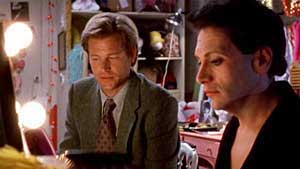 A few months pass. David is living with Arnold, and Ed has left Laurel and is sleeping on Arnold's couch. Arnold's mother (Ann Bancroft) knows nothing about David when she drops in for a visit. This leads to family squabbles, both funny and tragic. Meanwhile, Ed is more sexually confused than ever, and contemplates staying with Arnold and David.
Fierstein's screenplay for Torch Song Trilogy both condenses and expands upon his 3+ hour play. Opting for a more linear storyline to connect the three plays, Alan and Arnold's relationship is developed further than it was onstage. For a change, the filmmaker's decision to "open up" the stageplay resulted in a finely crafted and moving movie. The shot of Fierstein standing paralyzed in the street as an ambulance drives away with Alan is one of the most traumatic in all of queer cinema.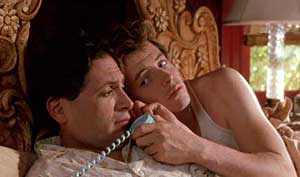 While the film doesn't shy away from depicting tenderness in bed between Arnold and the men in his life, it still omits certain "racier" moments from the stageplay (a lengthy monologue delivered by Arnold in the backroom of a bar for example.) Alan was seventeen when he met Arnold in the play, but this detail was changed. But other than these small concessions, (and perhaps a tendency to cut away from the kisses a little too quickly), the film is an honest adaptation of Fierstein's play and no effort has been made to "de-gay" it for a mass audience.
Much of Torch Song Trilogy is extremely funny. Which is good, because it probably would have been insufferably maudlin as a humorless drama. Fierstein's performance as Arnold is a delight, effortlessly shifting from bitchy humor to genuine pathos, often in the same scene. Brian Kerwin is also perfect as Ed, bringing a likable and goofy charm to a character who is basically a total jerk. I grew to respect Matthew Broderick as an actor after seeing him here. (Broderick had played David in the stage version). Anne Bancroft occasionally overdoes the Jewish "shtick" as Arnold's mother but her scenes with Fierstein are among the movie's highlights.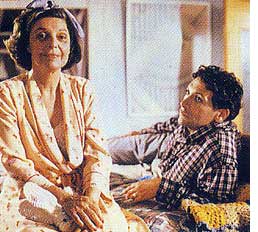 Their arguments are filled with moments that many gay audience members will recognize. ("You're not going to make me sick like you did your father!" she says even though the father, shown earlier, was far more understanding than she.) She shrieks that Arnold cannot say a single sentence without the word "gay" in it, and flips out when Arnold says Kaddish over Alan's grave. ("Are you trying to compare my marriage with you and Alan?") Arnold tries to explain to his mother that David was placed with him because he is gay so that he can grow up with a positive role model and she refuses to listen. But Fierstein presents both sides of the coin and shows things from the mother's point of view as well. Arnold had never told his mother about David, or about how Alan died, so one can't help agreeing with her when she says "You cut me out of your life and then you blame me for not being a part of it."
Arnold's mother is deeply disappointed that her son turned out gay, but she still tries to be his mother. Arnold, on the other hand, rightly wants respect and their stormy relationship is as much his fault as it is her's. It is touching then to see Arnold try to be a "mother" to David and not make the same mistakes. He is completely open with him, and they talk. Amusingly, he acts just like his mother whenever he scolds him. In one of the movie's funniest scenes, David gets into a fight at school and Arnold storms into the principal's office acting like a stern disciplinarian, except that he is wearing bunny slippers.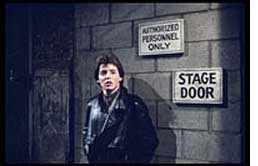 Torch Song Trilogy is an ambitious work that somehow manages to effectively cover a lot of issues in an entertaining manner. Ed's inability to come out is fully detailed, (rather than come out to his parents, he just stopped seeing them), family problems of homophobia are explored, as well as the issue of gay parenting and adoption. By the end, everything is not all tied up in a neat bundle. Arnold's mother comes to somewhat of an understanding of her son, but she still leaves. Ed may or may not stay with Arnold. And Arnold, always a survivor, hangs on. The approach might be a tad melodramatic in spots, but Torch Song Trilogy succeeds beautifully as a film. It is well worth a look.
[Reviewer's note, 2007: Buffalo United Artists did a superb job when it staged Torch Song Trilogy in 1996 at the Alleyway Theatre, starring many Buffalo theatre legends. Jimmy Janowski played Arnold, Brian Riggs was Ed, Chris Kelly was Alan, Christopher Perricelli was David, Mary Loftus was Arnold's mother and Kamela Boeck played both Laurel and the torch song singer in Act 1: The International Stud. The production was directed by Christopher Jenkins.]
All coming out stories are different. In The Lost Language of Cranes, (1991), author David Leavitt adds a new twist to what could have been a familiar story....the father is also gay.
The main characters' paths cross in overlapping scenes as the film begins. First we meet Rose, the mother (Eileen Atkins). Rose looks old beyond her years, her face careworn with lines of worry. She runs, unexpectedly, into her husband, Owen (Brian Cox), on a London street. Their nervous manner towards each other is obvious to the audience. They part, and Owen then slips into a gay porn theater. Their son, Philip (Angus Macfayden), is a young gay man who is first seen in bed with his lover, Elliot (Corey Parker). When Philip decides to tell his parents that he is gay, their collective world, filled with secrets, crumbles.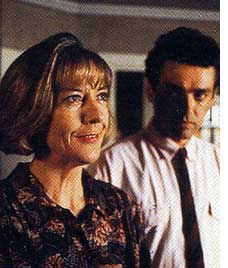 Rose, stone-faced, is shocked at her son's news but acts more annoyed that she had to be told than by anything else. Rose works as a proofreader and prides herself on not overlooking things and is stunned that she managed to overlook this! When Philip says, deflated, that he didn't believe that such an important part of his life should remain hidden, Rose insists that some things should remain secret if it helps "keep the fabric together." Owen sits dumbfounded and horrified through this entire confession; listening to his son reject all the mistakes he made in his youth when Philip asks if he should live a lie instead, get married and try to pretend he has feelings for her when he would rather be with a man. After Philip leaves, he locks himself in the bathroom and cries uncontrollably.
The Lost Language of Cranes is a film of quiet and almost painful dramatic intensity. Screenwriter Sean Matthias and director Nigel Finch have successfully transposed David Leavitt's acclaimed 1986 novel from New York City to the London West End. The richly developed characters have real everyday problems. Owen and Rose have lost their apartment and have to move out in three months. Every Sunday, instead of looking for an apartment, Owen goes to dark theaters and bars. Philip and Elliot's relationship is rocky as each expects different things from the other. As communication breaks down, a mutual friend studies a case in which an abandoned child developed her own language by watching and mimicking the waterfront cranes outside her window.
Many heavy issues are presented here unflinchingly, but with taste and sensitivity. Philip and Elliot's love scenes are played with great tenderness. There is also a touching eroticism to the scene where Owen meets an attractive middle aged man in a bar and nervously goes to a hotel room with him. Both men fall for each other believably, and then return home to their wives.
Interestingly enough, The Lost Language of Cranes, like Stephen Frears' My Beautiful Laundrette years before, was made for British television. When is American TV ever going to reach this same maturity?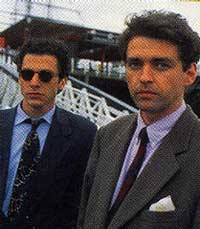 Lighter moments include a delightful episode featuring Elliot's "parents" who raised him since he was a boy. They are beautifully portrayed by openly gay director John Schlesinger (Sunday Bloody Sunday, Midnight Cowboy) and Rene Auberjonois (Odo on Star Trek: Deep Space Nine and the original Father Mulcahy in Robert Altman's M*A*S*H). Schlesinger plays a writer of children's fiction and Philip is one of his biggest fans. Auberjonois shares a laugh with Philip as he talks about the time they were first called to school for a parent-teacher conference. It is one of the best scenes and, much to the film's credit, such moments occur naturally throughout.
Like Torch Song Trilogy, this film also says a lot about familes and communication, plus the lack thereof. Interestingly, the mothers in both films would rather have been left in the dark instead of knowing the truth, while the fathers have been more understanding. (Though this father is gay himself, and his later willingness to talk to Philip about being gay is filled with ulterior motives.) When traditional family units break down, it is often necessary for a man or a woman to create their own. The healthiest family shown here seems to be Elliot's charming and daffy fathers who raised him as if he was their own son. Despite the rantings of the Religious Right, history has shown that "nontraditional" family units also have their place in society. Those who fret over gay parents producing gay children should remember a line from Buffalo comic Bob Smith who said "I'm only going to say this once: Heterosexuals produce homosexual children."

A fine ensemble cast and a brilliant script make The Lost Language of Cranes a true classic of Queer Cinema. At the film's conclusion, Owen watches Philip walk away down the street with his lover and sees the life that he could have had if he had grown up in a different time. It is impossible to watch this video without being profoundly moved. Torch Song Trilogy and The Lost Language of Cranes can be both be rented at Rainbow Pride on Hodge Street. You might find them at some of the chain video stores too.
More On David Leavitt:
Food Of Love
More On Brian Cox:
L.I.E.
More On Brian Kerwin and Harvey Fierstein:
Common Ground
More On Matthew Broderick:
The Stepford Wives