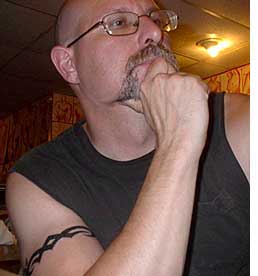 THE SHORT VERSION:
Cinemaqueer.com is a collection of gay, lesbian and transgender film reviews, written by Michael D. Klemm, and published from 1998 to the present. My mission is to celebrate the history of LGBT films. I do not expect everyone to agree with all of my reviews, but I have been watching the development of queer cinema for over thirty years and I like to think that I bring to my writings a historical context that is severely lacking in much of the online film criticism that I read today. My own insights are based on personal observations that date as far back to the late 1970s.I have enormous respect for Vito Russo's groundbreaking book, "The Celluloid Closet" but I also feel that queer cinema has evolved past the point where our primary concern should always be whether or not the film is first, and foremost, a positive treatment of being gay.
I am not the same person that I was, more than a decade ago, when I wrote my first column in Outcome, and things have changed so much that, though I grew up starved for queer images on the silver screen, I've also lived to see a time when I could actually get blase about it.
One thing that I can promise to bring to my writing is a reverence for our cinematic past. There is a disturbing trend in a lot of modern criticism that tends to treat anything that was made more than five years ago as being ancient. You won't find that attitude here. Some older films deserve a certain amount of respect accorded to them simply BECAUSE they were the trailblazers. A film was often innovative at the time of its release for reasons that are considered old hat today. Someone had to film the first close-up and this is why silent films still turn up on critics' ten best lists.
Oh, and I don't believe in star ratings. According to a book of capsule video reviews that I once bought, Kubrick's "Barry Lyndon" and "Porky's" are both three star movies.
Aside from any clearly labeled new thoughts, I've left the reviews as I have originally written them - except for a few instances where I have fixed a factual error or a really awkward sentence. The original run date is at the start of each review so that it is clear when it was written. Please note that, when you click on a particular title, some of the webpages contain more than one film and you may have to scroll down.
The majority of the 300+ reviews included first appeared in Outcome, Buffalo, NY's on-time free monthly gay newspaper (publisher/editor: Tim Moran). Many have also appeared in abOUT Magazine (publisher/editor: Duane Booth), a glossy magazine that was published in Toronto, Canada and distributed throughout Ontario, Montreal and New York State. All reviews now are being written exclusively for the website.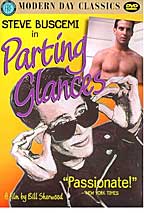 My favorite gay films include Bill Sherwood's Parting Glances, John Greyson's Lilies, Ang Lee's Brokeback Mountain, Jon Shear's Urbania, Gregg Araki's The Living End. Bill Condon's Gods and Monsters, Hector Babenco's Kiss Of The Spider Woman, Nigel Finch's The Lost Language of Cranes, David Moreton's Edge of Seventeen, P.J. Castellaneta's Relax...It's Just Sex, Martin Donovan's Apartment Zero, Gus Van Sant's My Own Private Idaho and Milk, Pedro Almodovar's Bad Education and Law Of Desire, Rodney Evans' Brother to Brother, Andrew Haigh's Weekend, Javier Fuentes-Leon's Undertow and John Cameron Mitchell's Hedwig and the Angry Inch. I also loved, for the most part, all five seasons of Queer as Folk.